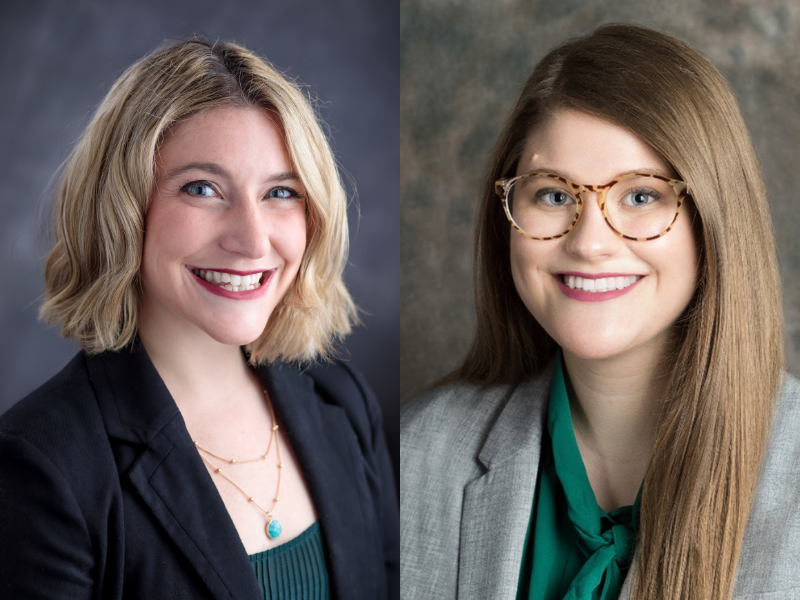 The path to becoming a physician is not an easy one. It is arduous, long, and demands a lot from students. It's a full time commitment, often pushing other priorities or goals to the side. One glaring example of this is that the demands often impact when aspiring physicians decide to have children and expand their families. In so many cases, parents or prospective parents in medicine have to make painful choices which make it hard to be successful both as a student or doctor and as a parent. In fact, the American Board of Medical Specialties only just mandated that all residency and fellowship programs must provide a minimum of six weeks of paid leave for parents in July of 2021. Unfortunately, this mandate does not extend to medical students. But what if there were ways to support these parents and mitigate their sacrifices to their families and line of work?
As medical students at the University of Chicago Pritzker School of Medicine, Hannah Caldwell and Dru Brenner developed the Parent Resources in Medical Education (PRIME) Initiative to solve these problems. Starting in July 2021, PRIME grew out of the TMW Center's Parent Nation Initiative, based on Dr. Dana Suskind's latest book and accompanying campaign. Working closely with Dr. Suskind, Caldwell and Brenner saw many recurring patterns impacting parents in medicine that called for systemic solutions. Parent Nation's national campaign emphasizes the importance of robust support for parents and caregivers, especially during a child's early developmental years. This can often be a struggle for parents in medicine who work demanding schedules and long hours.
"There is a real lack of structural support for parents in this country; we see that clearly with parents in medicine," explained Caldwell. "If there are all of these families across the nation having the same issues, that's a structural problem that needs to be solved by a solution of the same magnitude. Improving parental support in medical schools creates a more inclusive and equitable learning environment for all."
Community and Advocacy
The PRIME team at the Pritzker School of Medicine created an initial survey to help develop the actionable goals of the project. Three major themes were identified:
Creating a supportive and inclusive community for parents
Advocating for policy changes to support parents
Facilitating outreach in learning environments to inform parents
"The initial survey was really informative, because we went beyond issues for current parents and asked a lot of questions about people's desire to parent and the timing of parenthood," said Brenner. "We were able to ask them why they may have delayed being a parent, which allowed us to see deeper challenges." The team has conducted surveys and focus groups since then that have helped them sharpen focus on what resources are and aren't offered at medical schools to those who are parents.
From focus groups with parents, the PRIME team learned that parents feel isolated and would like more structured community events with other parents. This reinforced the results from the initial survey and solidified that fostering community and belonging had to be a crucial part of the PRIME Initiative.
Supportive communities are also better equipped to be advocates for themselves. While nationwide advocacy is a long-term goal, the PRIME team knows that change can often be more easily influenced and impactful at individual institutions.
PRIME has since recruited 24 executive board members from across the country, a mix of parents and nonparents, to help develop advocacy groups and task forces to address different issues like work-life balance, parental leave policy, childcare assistance, and more. They hosted the first annual PRIME Time Summit, providing an opportunity to create advocacy action plans. This interactive process allowed attendees to formulate strategies to create and implement clearly documented parental leave policies, and make childcare more accessible and affordable for parents in medicine.
Outreach
Even when medical schools have family support policies in place, PRIME discovered that students don't always know about them. "Knowledge is empowering and many times students don't know what their schools offer," said Brenner. "Making sure students know what is available at their institutions is important, but there also needs to be resources for prospective students to understand what policies exist at institutions so they can make choices about where to do their training."
For improved evaluation, the PRIME team created the PRIME Index. It's based on measuring tangible resources that institutions provide for students. The Index evaluates institutions across eight factors and ranks them on a scale of one to five based on what resources are available for each category. Examples include: free childcare available on site, well-documented and clearly written parental leave policies, and official parent group at the institution. The Index also allows institutions to provide bonus program-specific factors that can contribute to the overall score like a signup sheet to make meals for a new parent during their parental leave or a childcare sharing system for study groups. This particular process allows programs to focus on not just what's missing, but what's already there, and how existing resources can be improved or made more accessible.
The index was inspired by Shayla Durfey, MD, SCM, at Brown Pediatrics Residency, who created a resource guide for her own medical school. "When information is clearly communicated and handed to you, it takes one less thing off of parents' plates, which is incredibly important due to the high demands of their personal and professional lives," said Caldwell.
What's Next
In the spring of 2022, PRIME held its first annual leadership summit.
"The PRIME Time Summit was a big moment for us.Building a program from scratch and having it recognized on a national scale was all we could have hoped for," explained Brenner, "It also helped us to determine our primary advocacy goals for the next year, and we look forward to our next gathering."
Attendees expressed interest in more tangible resources like childcare guides, resource guide templates, and tips for parents while applying for residency. PRIME has created specific task forces that will be focusing on these issues over the next year. In 2023, the team will look to focus more prominently on sharing resources and piloting the PRIME Index across its local chapters.
"Whenever we create a system that's more flexible, more accommodating, more able to respond to the needs of individuals, we create a system that's more just and more inclusive for everybody," said Caldwell.
If you enjoyed this piece, check out this blog by Josiah Macy Jr. Foundation President Holly J. Humphrey.