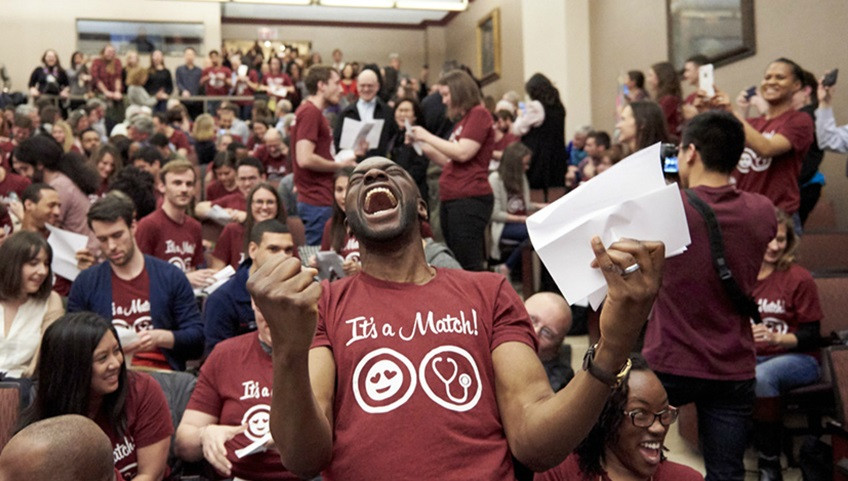 Today is Match Day: an annual rite of passage in medicine sometimes likened to the Sorting Hat from Harry Potter or the draft for the National Football League. This is the day when thousands of soon-to-be graduating medical students learn where they will train for the next 1–7 years during residency, having ceded control of their fate to the matching process. Match Day represents a major milestone event for students, medical schools, residency programs, and teaching hospitals.
Anyone who has been through this ritual will agree it is one of the most exciting and nerve-wracking experiences in the journey to becoming a fully licensed physician. It is also a career-defining moment, which may affect where a student settles in the future. The Association of Academic Medical Colleges Report on Residents estimates just over half (54.2%) of those who completed residency training from 2008 through 2017 are practicing in the state where they trained.
Match Day represents more than learning the location of a residency or the names of all the new interns who will join a program this summer. The day also represents the first job that newly minted physicians have following medical school graduation. This is the first time physicians will begin earning a salary after years of paying tuition, first in college and then in medical school. Match Day also represents the culmination of many years of continuous study, including periods of intense stress and anxiety. During medical school, students have a front row experience caring for patients during moments of great joy, such as the birth of a healthy baby, and moments of profound pain and suffering, as patients endure disease and sometimes death. Through these long days and nights of study and clinical experience, a student gradually transforms into a young physician.
On a Match Day long ago I, too, was one of the anxious students waiting to open my envelope at the appointed hour so that I would learn my match. Many years later, first as a program director and then as a medical education dean, I experienced Match Day from multiple perspectives. I know how much this day means to students and their families as well as to those who lead medical school and residency programs. As typical Match Day ceremonies transpire in schools across the country, the energy in the room is electric. Students wait for the magic hour when they open the sealed envelopes holding the long-awaited results of where their future will unfold.
Sometimes the information inside the envelope holds the name of a long hoped-for program, bringing great joy to the student. Other times, disappointment or even shock overwhelms the students because the program is not where they hoped to match and in fact may have been at or near the bottom of their rank list. Likewise, programs are also often excited, but sometimes surprised, to see the names populating the roster of their newest residents. In either case, whether Match Day represents happiness or disappointment for students or programs, what ultimately matters is not the information in the envelope or the names on the program roster—it's how the individuals and programs interact with one another in caring for patients in the course of the residency experience.
Many years ago when I was a program director, I overheard one of our best residents sharing with his peers and with a group of applicants that he had ranked our program 7th. I was shocked! Because programs and students never see one another's lists and only learn the information on ranking if someone voluntarily shares this confidential data, like many program directors, I had assumed that all the residents in my program had ranked us in their top three choices. While I knew theoretically that there were residents who had ranked our program lower than one of their top three choices, it never occurred to me that someone who was such a talented physician and a happy and positive resident had ranked our program near the bottom of his list. This young resident taught me an important lesson. He became a powerful example of someone who may have been disappointed on Match Day but who ultimately became an outstanding physician and whose positive demeanor and constructive interactions made him one of our most effective residents. He was a living example of someone who truly "bloomed where planted." More importantly, I am quite sure that the patients he cared for had no interest in the order of his rank list!
This year, match week was extra harrowing for students and programs going through the supplemental offer and acceptance program (SOAP). My heart goes out to those students and to the faculty and staff in medical schools and hospitals who are working hard to make a match. In all the tumult of the week, my deepest hope is that all are ultimately able to navigate this process to a successful conclusion despite the additional hurdles put in their path.
To all of the students opening envelopes today, please accept our enthusiastic congratulations from the Macy Foundation. We know this is an important day not only for you, but also for families, friends, and faculty mentors who have accompanied you on your journey to becoming a physician. To all of the programs and faculty and the sponsoring institutions, including the nurses and other health care professionals, thank you for the critically important role that you play in educating the next generation of physicians. Congratulations to all!
Photo Credit: University of Chicago Medicine