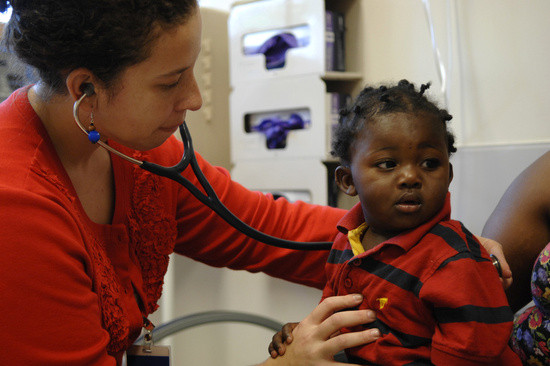 When you've seen a child struggle to breathe, you never forget it. Imagine you're the parent of a 5-year-old with severe asthma. Your child comes to you in the middle of the night, coughing and clenching his chest, his eyes wide and frightened as he fights for his next breath. Imagine the panic of not knowing what to do in this life-or-death situation. Add to your panic the stress and vulnerability of being a low-income caregiver with limited healthcare options. There is no reason for any child to die from an asthma attack at home because the family doesn't have appropriate information or resources to take action. We can and should close this critical gap in family caregiver education.

Unfortunately, I've witnessed this gap often during my 20-year career as a nurse. I've cared for many children who came to the emergency department wide-eyed, in the midst of an asthma attack. The wheezing sound from their restricted airways, the dread on their parents' faces—all of it is indelible. Equally unforgettable is the intense pressure that comes with attempting to give adequate discharge instructions in a limited period of time and the disheartening, uneasy sense that the family doesn't feel ready to return home and manage the child's complex, chronic illness until the next crisis. This is a grand problem, but it's one we can solve together.

A Two-Pronged Approach
At the University of Miami School of Nursing and Health Studies, my colleagues and I are developing a novel curriculum to teach and reinforce concepts of asthma management and medications, healthcare navigation, and self-advocacy for low-income family caregivers of children with asthma.

My project as a Macy Faculty Scholar involves empowering these caregivers on two fronts: through simulation-based education and educational reinforcement via telehealth home visits. First, we know simulation-based education works. A great deal of research supports simulation as a superior pedagogy, but we rarely use it to educate caregivers. This project will build on that opportunity. Second, our faculty will work with doctoral nurse anesthesia students to conduct weekly telehealth sessions that support family caregivers where they need it most—at home. Medweb™ makes this possible by giving caregivers convenient access to telehealth technology right on their smartphones. Telehealth is not generally included in the curricula of many schools, but as educators in the health professions, we should be emphasizing best practices in "web-side manner" and teaching our students to use current and future technology to improve patient outcomes.

Longitudinal Care, Long-Term Impact
As described in previous Macy Foundation proceedings, there is a need to promote educational models that better prepare students to build long-term relationships with patients and families and see them through the health trajectory. In the current clinical education model, students rarely see patients more than a couple of days in a row. These cross-sectional experiences expose students solely to limited segments of the healing process. This project presents an opportunity to create a new model of clinical education that bridges healthcare education with patient outcomes.

Leveraging the resources of the School of Nursing and Health Studies' newly constructed 41,000-square-foot Simulation Hospital and healthcare system, this project will provide longitudinal experiences for students and families, empower family caregivers to feel confident and comfortable caring for their child with asthma, improve child outcomes, and influence policy to cover expenses related to family caregiver education. Once we demonstrate that the intervention is effective, we could adapt and expand it to serve family caregivers of individuals with different chronic diseases.

With the support of the Macy Foundation, we will create a new model of clinical education to care for underserved families. The lives of children depend on it.