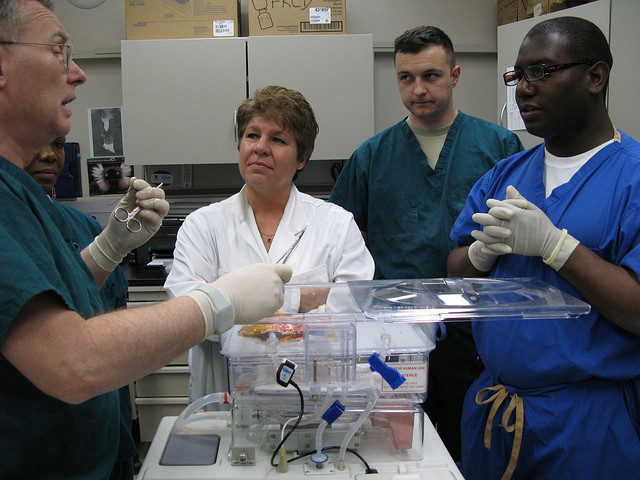 How do we know when a medical resident is ready for practice without supervision?
Given the many challenges facing our health care system, this is a critical question. Yet residency programs often struggle to assess resident performance, which requires both sufficient quantities and variety of data. It can be hard work.
Resident performance assessment has been the focus of my work since completing my pediatric training. At Boston Children's Hospital and Boston Medical Center, I oversaw resident assessment and chaired the clinical competency committee (CCC). Now, as associate professor of pediatrics at Cincinnati Children's Hospital Medical Center and the University of Cincinnati College of Medicine, I am using the practical skills in assessment that I developed in Boston to conduct research on improving resident assessment.
CCCs, which review resident assessment data to make summative decisions about performance, are taking on increasing importance in recent years. Although some specialties and programs have used groups similar to CCCs for years, others are just becoming familiar with them. The Accreditation Council for Graduate Medical Education (ACGME) identifies CCCs as an essential component of resident evaluation.
My Macy Faculty Scholar (MFS) project is an extension of research I've been doing on CCCs as well as on how to assess resident performance using entrustable professional activities, or EPAs. An EPA is what it sounds like: a professional activity—say, performing a well-child exam or providing care to a newborn—that you can trust a resident to perform with varying levels of supervision, culminating in the decision to entrust someone to perform the activity without supervision or even supervise others.
To help make entrustment decisions, CCC members can review months' worth of assessment forms filled out by supervisors, peers, and others who work with residents in the clinical learning environment.
What kinds of performance assessment information do CCC members need? What is missing that would be helpful to have? In what areas do training experiences fall short, leading to gaps in assessment data for making summative entrustment decisions?
These are the kinds of questions I hope to answer. With my MFS mentor, Carol Carraccio, I am co-leading a project at 23 sites that are implementing EPAs for general pediatrics. We are interviewing people leading these site implementations, as well as CCC members at the sites.
Insights from these interviews will help us identify best practices and common challenges so that we can begin to move these kinds of assessment programs forward.
We are still early in the interview process, but we believe that we will find that some professional activities are more difficult to assess than others. Take, for example, behavioral/mental health. A general practice pediatrician encounters mental health issues every day—however, he hasn't necessarily been trained to address them well in many current training environments, which in turn makes it challenging to assess his performance in this area.
Quality improvement is another area where residents should be engaged but frequently aren't. Again, how do we appropriately assess performance in this type of circumstance?
Although this project focuses on pediatrics, I believe that our findings will be generalizable both within and outside pediatrics. Learning how to optimize resident assessment affects all programs and specialties.
In the end, it's all about ensuring patient safety and achieving good patient outcomes. That's why resident performance assessment is so important. We must find better, more effective, and more useful ways to assess resident performance. It's one of the fundamental steps to improving our health care system.

Photo Credit: Flickr/ArmyMedicine