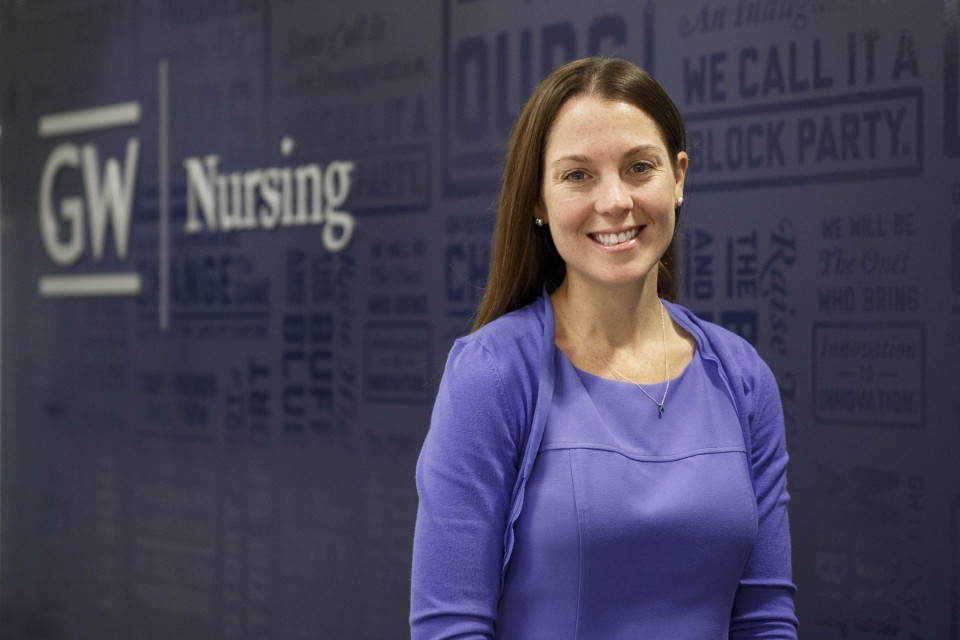 Nurses have long been trusted, respected members of the health care team, and throughout the past year, COVID-19 amplified the critical role that nurses play in the care of patients, families, and communities. The American Nurses Association recognizes the month of May as a time to honor nurses and support the nursing profession, and the Macy Foundation is proud to be one of the many organizations joining the celebration of our country's nurses.
In recognition of the significance of this month, Macy Foundation President Holly J. Humphrey took the opportunity to speak with 2017 Macy Faculty Scholar Ashley Darcy-Mahoney, PhD, NNP, FAAN, about the recently released Future of Nursing 2020-2030 Report. As a member of the Study Staff and Distinguished Nurse Scholar-in-Residence at the National Academy of Medicine, Dr. Darcy-Mahoney sheds light on some of the Report's important facets and shares her thoughts on nursing groups and organizations doing outstanding work right now.
For those who may be unfamiliar with the Future of Nursing 2020-2030 Report, can you give a brief summary of the purpose of the undertaking and provide some of the key messages from the report?
We know we cannot fully thrive as a nation until everyone, no matter who they are or where they live or how much money they have, can live the healthiest possible life. Helping people live the healthiest possible life is and has always been a central role of nurses. Nurses have a critical role to play in achieving the goal of health equity, but we need robust education, supportive work environments, and autonomy to do so. The Robert Wood Johnson Foundation, on behalf of the National Academy of Medicine, convened an expert panel to extend the vision for the nursing profession into 2030 and chart the path for the nursing profession to help our nation create a culture of health, reduce health disparities, and improve the health and well-being of the United States population in the 21st century. The report explored the role that nurses play in helping reduce inequities in people's ability to achieve their full health potential, particularly the role that nurses play in addressing social determinants of health and providing efficient, effective, accessible, and equitable care across the care continuum. The ultimate goal is health equity in the United States built on strengthened nursing capacity and expertise. That is the underpinning of this report.
There are nine recommendations, and they center on the idea that, for our country to thrive, everyone—no matter who we are or where we live—should have the chance to live a healthy life. Nurses are catalysts for this change; nurses are trusted bridge-builders who collaborate with people, communities, and organizations to promote good health and well-being, no matter a person's background. The recommendations really flow from those two things.
In order to do those things—in order for nurses to help people thrive in our country and to live a healthy life and work toward achieving health equity—we need systems that educate, pay, employ, and enable nurses to do this work. That includes permanently removing barriers to care, valuing nurses' contributions to care, preparing nurses to understand and tackle the social factors that affect health, and diversifying the workforce. The nine recommendations fall under those specific areas: removing barriers, valuing contributions, preparing nurses, and diversifying the workforce.
As a highly regarded and accomplished nurse practitioner who is invested in clinical practice, research, and education, which of the report's recommendations most excite you? Where do you see the greatest potential for positive change in the field of nursing?
When I think about the things that are the biggest levers in terms of making change, I would highlight recommendation #4, regarding nurses practicing to the full extent of their license, and also recommendation #2, which describes enabling the nursing workforce to address the social determinants of health and health equity, regardless of practice setting. We should support this work by establishing sustainable and flexible payment mechanisms to do so. Those were the recommendations that really captured me: that we have to be able to pay nurses—to pay all healthcare clinicians—to do the work that is needed to attain health equity, and that includes public health, school nurses, and how we address social needs in our outpatient visits and in our inpatient ICUs to make sure people are not coming back to the ER. We have to incentivize health systems and practitioners to do this work. While it may not sound like the most exciting part in terms of restructuring payment models to address these issues, I think if we move the levers of the incentives, we will have better success in aligning health equity focus.
As a recent Macy Faculty Scholar, the focus of your work centered on implementing a program to address the social determinants of pediatric health and equity. How has the public health crisis that is the COVID-19 pandemic impacted your own work?
Kids have been impacted by COVID in ways that are different from adults. That is not to say that children do not get COVID and that is not to say that COVID and multisystem inflammatory syndrome in children (MIS-C) haven't impacted children in terms of physical health, but we have seen significant complications surrounding COVID that stemmed from many of the things we had to do to quell the disease from a public health perspective. We are seeing a lot of important mental health concerns related to kids and COVID. School is different than in the past with positive outcomes for some communities, but many communities have struggled with kids being out of the face-to-face learning environment. From the perspective of someone whose focus is on early childhood, it has come to light how important early childhood education is and how vital it is to a child's social-emotional learning and social-emotional well-being. Whether that means early childhood learning in a center or family care, all of that has been disrupted. Grandparents have largely been quarantined from grandchildren for a long time, which impacted families, especially mothers. I am hopeful that as we continue to vaccinate and continue with the strategies that will help us come out of this pandemic, we can support mothers and babies and young children in this early childhood time, making these interactions and early learning environments supportive.
Are there any specific initiatives or projects taking place right now that—in your view—are strong models for how nurses and the nursing profession can achieve health equity?
There are two that I would like to highlight. First is nurse home visiting, which has been incredibly important for lots of families. It has been around for quite some time. One example of a home visiting program is Nurse-Family Partnership, which helps maternal-child health. Nurse-Family Partnership empowers first-time moms to transform their lives and the lives of their babies to create a better future for themselves. The goals of Nurse-Family Partnership are to improve pregnancy outcomes by helping women engage in preventative health practices from prenatal care through age 2; improving child health and development by having a nurse involved in coaching and working with families; and improving the economic self-sufficiency of a family by helping parents develop a vision for their own future, plan for future pregnancies, and continue their education and find work. It is a program that has been around for more than four decades and has funding from the Health Resources & Services Administration. Expectant moms benefit by getting care and support to have a healthy pregnancy, and new mothers develop a close relationship with a nurse who becomes a trusted resource whom they can rely on for advice for everything from safely taking care of their child to taking steps to provide a stable, secure future for both mom and baby. Nurse-Family Partnership has served more than 340,000 families over the past three decades. It is in 40 states and there is certainly quite a large return on investment within the organization. Depending on the citation you see, in general, for every $1 spent you generally get at least $5 back in future cost for highest family served; that data comes out of the Heckman Equation. I think Nurse-Family Partnership beautifully showcases how nursing can impact families.
School nurses also serve as a strong model for achieving health equity. What a time to look at school nurses! The American Rescue Plan passed by Congress in March put forward that school nurses are vital to our children going back to school safely. They are vital to having healthy kids, having healthy families, and to having place-based care with a nurse caring for children and meeting them where they are, which is in school. School nurses serve as a critical health hub for students. They ensure students are ready for learning by managing complex chronic conditions; by identifying and addressing mental health issues; by levelling the field on health disparities and promoting healthy behaviors; and by enrolling children in health insurance and connecting families to healthcare providers. School nurses handle medical emergencies, and now they navigate the COVID pandemic by conducting contact tracing and tracking as well as vaccinating students older than 12 and hopefully younger students as the fall comes. The American Rescue Plan provided a lot of money to accelerate recovery efforts, including $122 billion for K-12 schools, of which $500 million was set aside for school nurses to ensure they are in every school.
Those are just a couple examples that I think are strong models for health equity. Of course, these models are pediatric-focused, as that is the work that I do. There are certainly other adult ones and many that you can find in the report, but those are the two that I would like to highlight.
What can academic institutions and organizations like the Macy Foundation do to best support the future of nursing?
When we think about education programs, nursing education—including continuing education— should ensure that nurses are prepared to address the social determinants of health and achieve health equity. That means supporting our professors in understanding health equity and how to teach it. We have a lot of incredible scholars like Kenya Beard, for example, who have done this work and have been doing this work for a very long time, and we should continue to look to that work as we teach the next generation to address the social needs and social determinants of health more fully.
Private associations and foundations can convene representatives from nursing and public health to develop and support a research agenda in evidence-based to describe the impact of nursing interventions on social determinants of health, environmental health, and health equity. I think there are a lot of ways in which the Macy Foundation can support some of the recommendations that we have. The work that the Foundation is doing right now is already focused on those recommendations; improving health by advancing the education and training of health professionals is the north star of the Macy Foundation. The Foundation is doing so by its priority areas: promoting diversity, equity, and belonging; increasing collaboration among future health professionals; and preparing future health professionals to navigate ethical dilemmas. These areas align quite readily with the Report's recommendations.
As all nursing organizations continue to think about these shared agendas for addressing the social determinants of health, and how we can do so collaboratively, leveraging expertise from across relevant organizations and considering how we engage in making our students better learners are key.