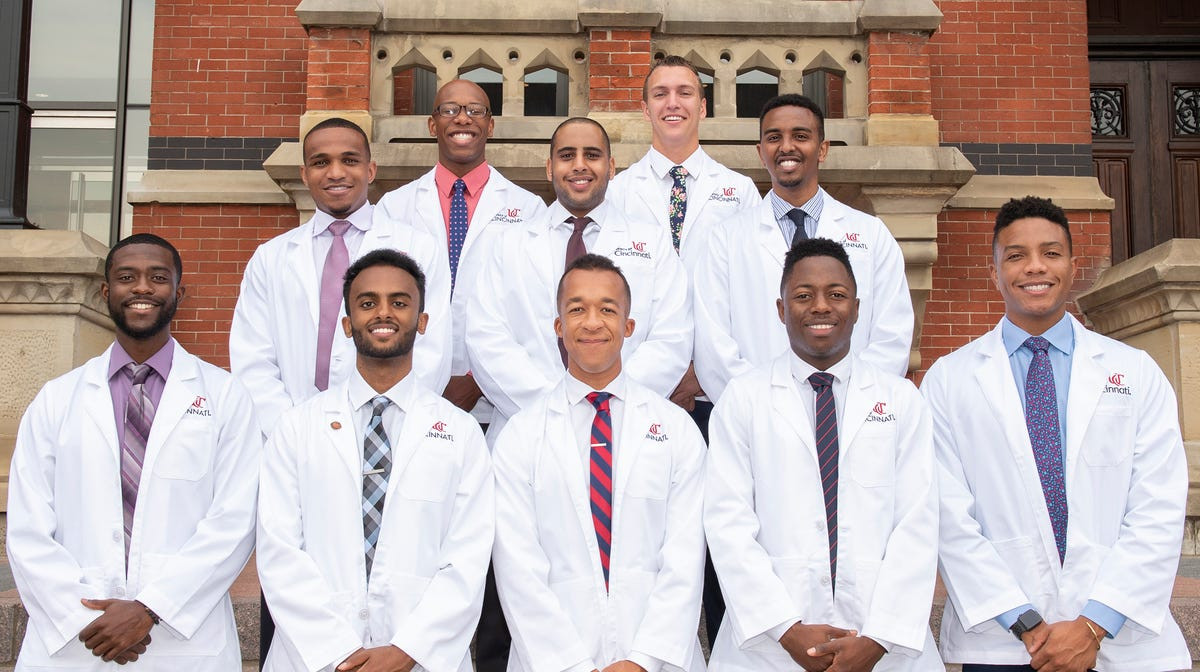 In 2013, Dale Okorodudu was finishing up his residency in internal medicine at Duke University when he came across a 2013 report from the Association of American Medical Colleges (AAMC). In the report, AAMC noted that the number of Black men who were applying to medical school was decreasing.
Dr. Okorodudu wanted to do something, though he wasn't sure exactly how he could help. He started by bringing a few residents together to film a roundtable discussion about medical school, residency, and being a Black male physician. That initial video received a good amount of interest and Black Men In White Coats was born as a way to highlight Black male physicians and encourage younger kids and their families that they too could be doctors.
"We wanted to really increase ethnic and socioeconomic diversity within the field of medicine," said Dr. Okorodudu. "For Black men in particular, our aim is to tell compelling stories of individuals they can identify with, and in doing so, demonstrate that there is no reason they can't become medical doctors as well."
From there, the project grew organically. Dr. Okorodudu and his team created more videos designed to generate awareness of the declining numbers of Black male doctors, while inspiring youth to pursue careers in medicine. They profiled highly respected Black male physicians. The videos have been well received and featured on national news, in public school classrooms, on national public radio, and at multiple conferences. After the release of these videos, Dr. Okorodudu was contacted by Baptist Memorial Hospital in Memphis, Tennessee, where a pilot Black Men In White Coats Youth Summit was held. Students, parents, and community members gathered to hear directly from Black male physicians and learn about pursing a medical career. The pilot summit was successful and gave Dr. Okorodudu confidence that this could be scaled up.
With a grant from the Josiah Macy Jr. Foundation, Dr. Okorodudu and his team began to expand their approach, holding annual summits with the first one in Dallas in February 2019.
The conferences, which are free and open to the public, are geared toward middle and high school students, parents, educators, clinicians, partners, and community leaders. The conferences provide the community with in-person exposure to healthcare and healthcare professionals and serve as a forum for discussion where influencers within the city provide actionable solutions to addressing the low representation of Black men in medicine. The conferences also include sessions for parents seeking information pertaining to their children's journeys into medical careers.
"We learned from the first conference that parents particularly were dying for this opportunity," said Dr. Okorodudu. "Many of the participants hadn't seen a Black male physician until that day. That exposure was really inspiring to see."
Over 1,800 people registered for the first conference, demonstrating the significant need and interest in this type of conversation. Dr. Okorodudu and his team plan to hold summits more regularly in every major city, and they already have partnerships with medical schools around the country to continue these events once social distancing restrictions are lifted and it is safe to hold gatherings.
In another effort to engage with youth and potential physicians, DiverseMedicine started the Ingram Academy, named after Dr. Ellis Ingram, who has served as a mentor to countless individuals who are now doctors. The Ingram Academy connects with local elementary, middle, and high schools to provide in-class presentations to students to increase their access to educational resources related to pursuing careers in medicine. These presentations are held quarterly at no cost to the students. During each presentation, students solve clinical cases in small groups with their classmates. Cases are designed to be completed in two hours followed by a 30-minute discussion with a Black male physician who shares his personal journey and career in medicine. These presentations are also available remotely through live webinars, making registration open to schools nationwide.
At a recent Ingram Academy event, 300 middle school, high school, and college students worked through a clinical case involving a sickle cell patient. The students worked in small groups, receiving guidance from facilitators, and gained exposure into thinking like a doctor. The groups conducted research, investigated clinical symptoms, and attempted to diagnose and treat the patient in the case.
"We think its really important to get kids on the right path as early as possible," said Dr. Okorodudu. "That is why we invite elementary, high school, and college students to our programs. By the time they are in college, if not high school, it can be harder to get them on the right path, so we want to get them exposed at a young age and give them a goal to work towards."
In addition to its conferences and the Ingram Academy, DiverseMedicine is providing mentorship opportunities for high school and college students interested in medical careers. It works with an online mentoring platform and mentors nationwide to help connect with mentees on a monthly basis. It has recently been able to expand its mentorship program to provide year-round support, and it provides both the mentor and mentee with a month-by-month curriculum to guide discussions.
DiverseMedicine Inc.'s programs have been extraordinarily well received and the team has ambitious plans for the future. In 2019, Roc Nation, the entertainment company founded by Jay-Z, recognized Black Men In White Coats during Black History Month. This year, Beyoncé's website acknowledged Dr. Okorodudu and commended the work of Black Men In White Coats. Community and government leaders, such as Senator Dick Durbin from Illinois, have attended events and offered their support.
"It's been exciting to see that medicine has some cultural relevance and extends beyond the world of academia," said Dr. Okorodudu. "Ultimately, our goals are to ensure more Black men are applying to, matriculating, and graduating from medical schools so that they can go on to serve their communities in vital roles as physicians."