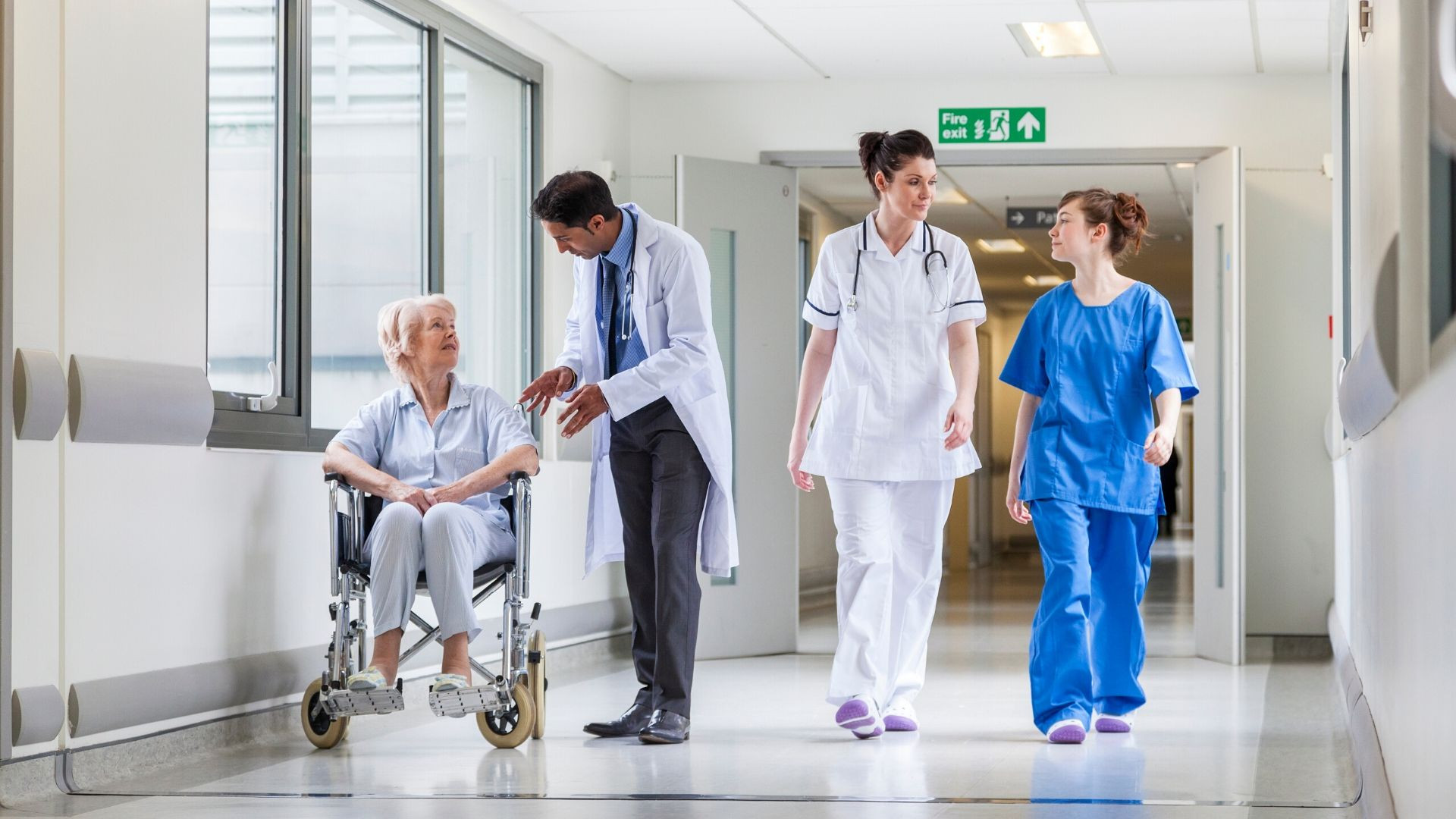 While members of the health professions — including nurses, physician assistants, pharmacists, physicians, social workers, physical therapists, and others — all have distinct roles and specialties, they all share the same goal: to provide the best quality of care to the patient.

Maintaining consistent, high-quality care requires health professionals to work effectively as part of a team. Ineffective teamwork and poor systems of care are the root cause for approximately 70% of preventable medical errors and adverse patient experiences. Most errors are not due to a lack professional clinical skill.
With a grant from the Josiah Macy Jr. Foundation, Saint Louis University (SLU) sought to implement enhancements and innovations in interprofessional education (IPE) that better prepare health professions students to be collaboration-ready practitioners.
"There's no evidence that merely putting a team of experts together in one place will result in them functioning effectively as an expert team," said David Pole, PhD, MPH, who is spearheading the efforts at SLU. "As both teamwork science and systems science have developed over the last 25 years, health professions education must ask how we are preparing the current and future healthcare workforce to work as an effective team to improve how patients are cared for."
Practicing Teamwork in the Community
In 2008, the SLU IPE programs developed an interprofessional practicum course where students could engage with community partners and apply lessons learned from their IPE courses. With the support of a 2013 Macy Foundation grant, Pole and his team expanded the focus of the course outcomes to examine how it benefits the community agency partners and community members served. The SLU IPE team has developed partnerships with over 30 community agencies in under-resourced communities that provide health, education, or social services as part of this project. Over the course of an entire semester, SLU undergraduate students in nursing, physical therapy, occupational therapy, athletic training, nutrition, and other allied health and pre-med programs work with community agency partners to support and strengthen programs, including program delivery, adapting evidence-based solutions, improving outcomes, and aligning outcomes with agency grant and other funding requirements.
For example, students working with an after-school program were tasked with implementing an oral hygiene program. The students looked for new models that could successfully be applied to teach children about oral hygiene beyond the traditional method of telling the kids about the importance of flossing and brushing. They developed an activity where the children pushed Play-Doh into the crevices of Legos, which represented teeth, and the students taught them how to use dental floss to clean the Legos and remove the Play-Doh. The kids learned how flossing worked in their mouths, developed new skills, and gained a better understanding of why oral hygiene is so important.
SLU also created a web-based repository of all community partners, practicum projects, resources, outcomes, and the professional posters that the students present at the end of the course. SLU's community partners have loved this resource, and it has even supported networking and new collaborations between the agencies. The practicum projects have helped community partners build their own capacity to achieve their goals rather than just relying on the student teams. In 2019, the SLU IP Community Practicum was one of five programs recognized by the U.S. Public Health Service and the Interprofessional Education Collaborative's (IPEC) Public Health Excellence in Interprofessional Education Collaboration Awards, receiving an honorable mention for Excellence in Community Engagement and Empowerment.
Developing Skills for IP Practice in the Clinical Setting
The program additions have continued to grow and develop at both the undergraduate and graduate levels. At the undergraduate level, SLU developed an IPE Clinical Practicum, which has grown from five initial partners to 20 clinical sites at SLU clinics, hospital, and community-based clinical locations. The clinical practicum has been incredibly successful in supporting students' introduction and socialization as members of a healthcare team.
The clinical sites include ambulatory care clinics, a pediatric cleft palate clinic, senior-care centers/nursing homes, and a transplant clinic, to name a few. Students interview and shadow a provider to see how they work with the care team; they sit in on team meetings where the care team members collaborate to put together a plan of care; and finally, they interview the patient and caregivers to see how that collaboration impacted the patient. Crucially, the students repeat the entire process at a second clinical site, working with a different team, to compare settings and common attributes that make the teams successful at improving patient care and outcomes. "This program is often students' first exposure to a clinical shadowing experience," said Dr. Pole. "From these two experiences, the students see how collaborative practice is actually done. While it may be implemented differently at various clinical sites, the fundamental attributes of providing team-based care are consistent."
SLU also developed an IP Health Outcomes Research course. Together with other IPE programs, this enables students to earn an academic minor in Interprofessional Practice. Since expanding programs under this project, over 140 health professions students have completed their professional degree with a minor in IP Practice.
Expanding Graduate-Level Interprofessional Practice
At the graduate level, the Macy funds enabled SLU to implement a large expansion of their interprofessional education programs during the clinical training years for students from nine different professions. Over 700 students participate in a series of six Interprofessional Team Seminars (IPTS). This includes 45 faculty-facilitated small groups that work through real patient cases focusing on teamwork and communication in the creation of a care plan.
"Our goal to prepare students for collaborative practice has grown beyond simply being able to describe that they are working with a nurse, nutritionist, or social worker," said Dr. Pole. "Now we see students describing their increased confidence to engage with other professions in the clinical setting, to ask better questions, and share how the perspective that a physician, social worker, nurse, dietitian, physical therapist, or pharmacist has changed their approach to patient care and how they appreciate other professions' roles in improving care and outcomes."
SLU continues to improve the way health professions training is conducted by incorporating collaboration and teamwork into all levels of education as integrated components of the multiple training programs. "The SLU culture is really starting to shift to support working as part of an effective team as essential for giving patients in clinical and community settings the best possible care," said Dr. Pole. "It's crucial that students begin to learn about effective teamwork as soon as they step into the classroom."