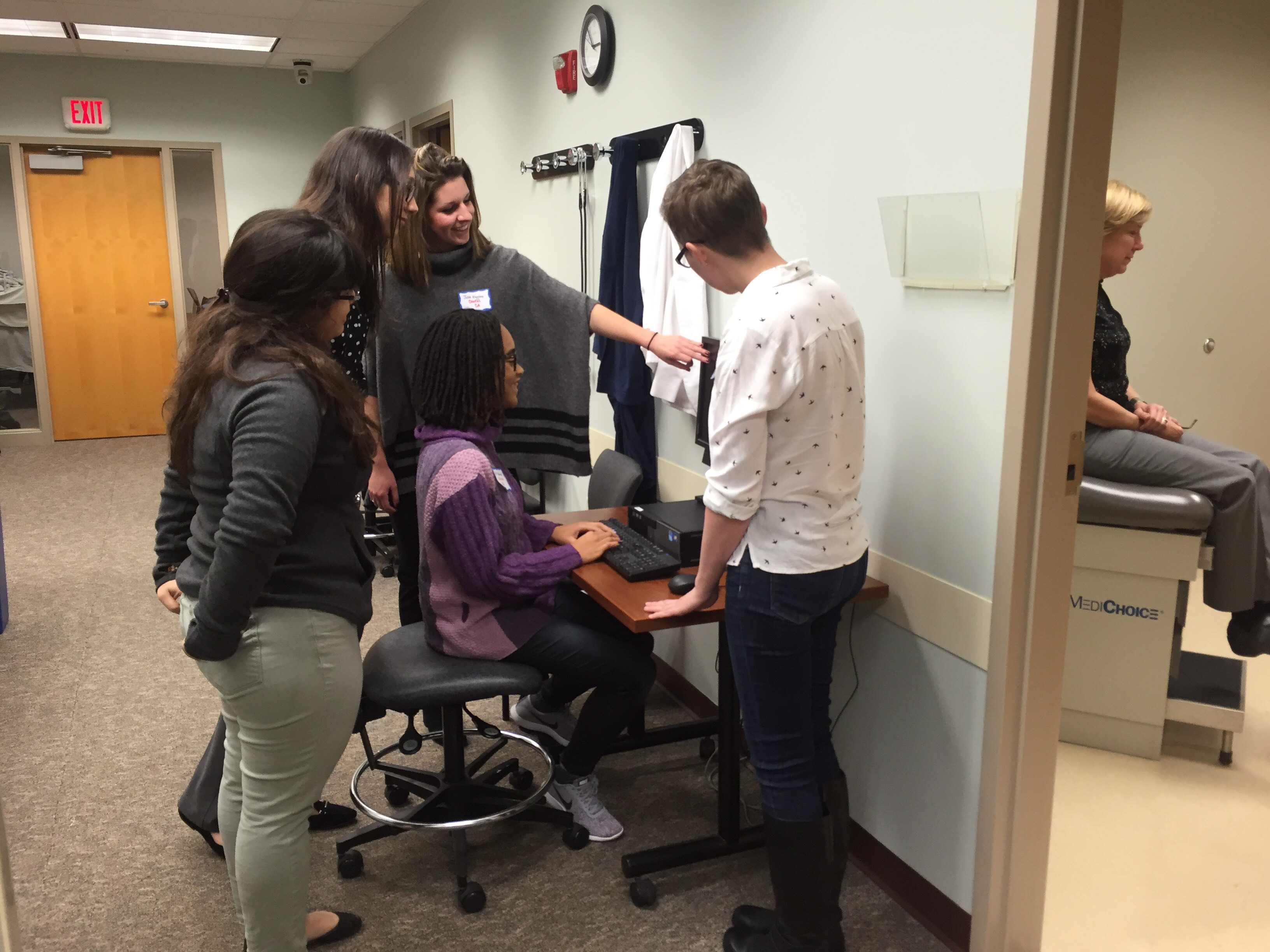 In 2010, the Macy Foundation awarded a grant to Case Western Reserve University to build up its interprofessional education (IPE) curriculum. Titled I-LEAD (Interprofessional Learning Exchange and Development), the project placed students from medicine, nursing, dentistry, and social work in interprofessional learning opportunities to help them better understand the value of team-based care.
Fast forward to today and Case Western has taken its IPE program to new heights. With additional support from the Macy Foundation, I-LEAP (Interprofessional Learning Exchange and Practice) is building on the success of I-LEAD and placing teams of students out in the community to enhance team skills, attitudes, and behaviors for collaborative care.
"Just like any other skill, teaching team skills only goes so far in the classroom,'' says Ellen Luebbers, MD, I-LEAP's principal_investigator investigator from the CWRU School of Medicine. "Students can practice the skills with simulation, but the application of skills required to work on a team only get cemented with real work. As educators, we must provide real-world opportunities for our students early on so that they better understand how to care for patients as part of a team."
Teaching New Skills
It was important for Case Western to make sure that students actually learn new skills and don't just shift attitudes about their colleagues.
Building on what worked well with the I-LEAD program, Case Western expanded its "readiness curriculum." The curriculum includes a foundational course where more than 600 students from medicine, physician assistant, dentistry, nursing, social work, nutrition, and public health come together to learn about the other professions, see what team-based care looks like, and begin to acquire the skills necessary to work together.

Once students establish foundational skills, the I-LEAP project places them in a community clinic or inpatient setting once a week to explore these key questions:
"A program like this is not sustainable if students aren't adding value to the clinical partner sites," explained Catherine Demko, PhD, from the CWRU School of Dental Medicine who is leading I-LEAP's evaluation. "In collaboration with the partner sites, we want to make sure we are making the most of everyone's time. It was crucial to ensure that we'd be successful in the future."
How can we create interprofessional team learning opportunities for students in clinical and community settings?
What skills can students learn during these experiences as a student team?

What kind of meaningful work can early learners do?

What value can the students provide to the clinic and patients?
Walking the IPE Talk
With five clinical partner sites—including Federally Qualified Health Centers and in-patient settings at the Cleveland Clinic Foundation—on board, first-year medicine, physician assistant, dentistry, nursing, and social work students now work together to care for patients at community clinics. During their five- to eight-week placement, the student teams meet weekly with patients and perform survey-based screenings, health education, and coordination of care through referrals.
The placement offers student teams an opportunity to learn how to work together, using an interprofessional lens to address needed services, such as dental care, immunizations, or appropriate cancer screenings. Several of Case Western's clinical partners already report positive impacts, including:
More adults are accepting immunizations

An increase in dental clinic referrals in a clinic with a medical home model

Across all sites, use of MyChart, a patient portal for the electronic health record, has increased

"It's really quite remarkable the impact these first-year students can have when given the chance,'' says Dr. Luebbers. "And being able to show the value IPE brings to our community partners will help sustain these programs."
Assessing Impact
The most unique aspect of I-LEAP is its focus on building team-based skills over time. The faculty team at Case Western created an assessment tool to use across the whole curriculum, called DOTI (Direct Observation of Team Interaction). Faculty employ the tool when observing teams in action, and students use it for both learning in the foundational course and self-assessment during I-LEAP. Senior students are trained with DOTI and act as coaches for the first-year student teams in the clinical setting.
"Student assessment shouldn't be a mystery," says Dr. Demko. "We need to make expectations clear, and students should know along the learning journey how they are performing. We don't want students to just have an experience, but be able to show them that skills are being accomplished, assessed and built.''
Advice for the Field
One of the biggest barriers for a program like this, says Drs. Luebbers and Demko, is scheduling. Like many institutions, gathering students from different schools with different schedules creates a big roadblock for IPE.
To help break down scheduling barriers, institutional support is key.
"If you want IPE to happen in a real way, you need support from leadership at the highest levels,'' says Dr. Luebbers. "Institutional support helps align scheduling, and ensures faculty have the time to take this on. It also sends a clear message to all the health professions schools that IPE is a priority, not an afterthought."
Building community partners for IPE is another crucial component.
"These relationships take time, but you need their support to sustain IPE and be able to provide valuable learning opportunities for the students," explained Dr. Demko. "In order to get clinical sites on board, we must help them understand our program, how it works, and why placing students in their organization is of value to both their staff and patients."
As Case Western continues to build, assess, and refine I-LEAP, Drs. Luebbers and Demko say the program's coordinated and integrated approach will continue to sustain it.
"A progressive curriculum from foundational knowledge through authentic team experiences is CWRU's vision of interprofessional education," says Dr. Luebbers. "It is a big undertaking, but we believe this comprehensive, skill-based approach to IPE will foster a generation of health care professionals ready to provide coordinated care."
*Other Members of the I-Leap Team Include:
-Carol Savrin, RN, DNP from the Frances Payne Bolton School of Nursing
-Scott Wilkes, PhD, JD from the Jack, Joseph and Morton Mandel School of Applied Social Sciences
-Prabalini Rajendram, MD from the Cleveland Clinic Lerner College of Medicine