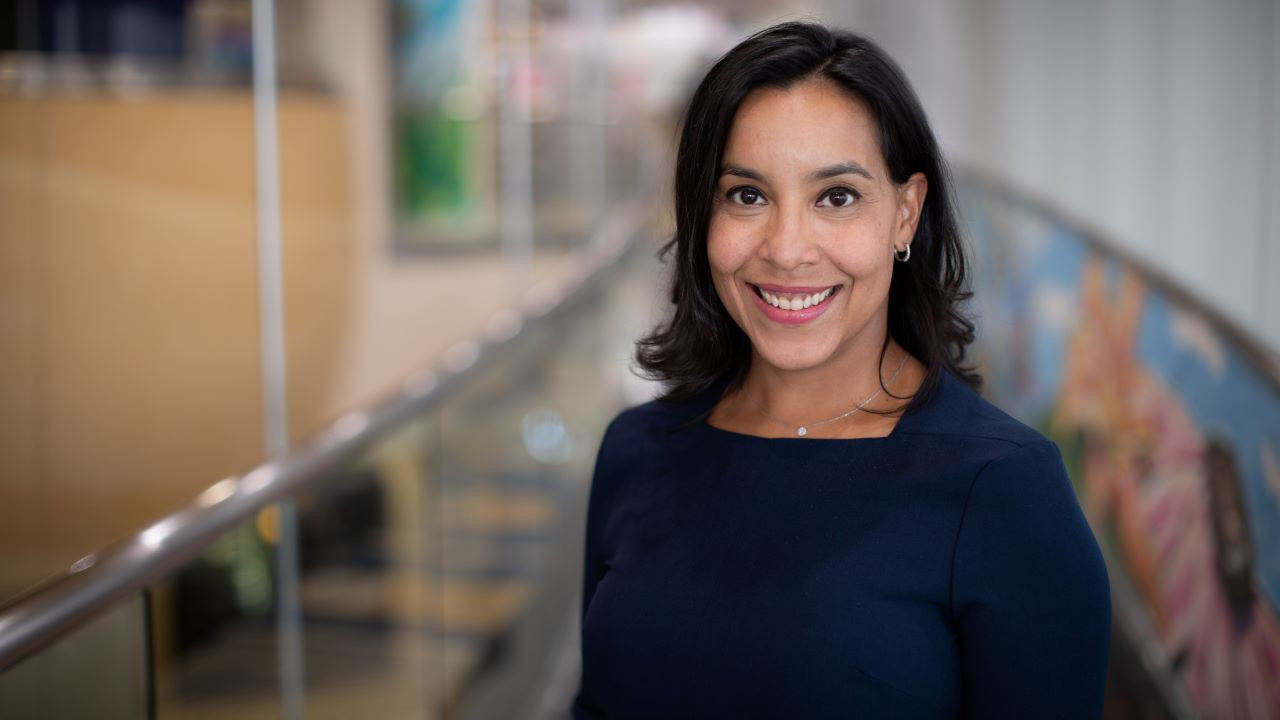 It was a treat to reconnect with Crisitina Gonzalez, MD, MEd, this month to discuss her important work related to implicit bias recognition and management, as well as the skills and behaviors that play a role in the patient-physician relationship. In a desire to shine a light on National Hispanic Heritage Month and to amplify the voices and experiences of those who identify as Hispanic and Latinx, I sought out Dr. Gonzalez—a Latina physician and one whose work has great relevance to Hispanic and Latinx patients and communities. Our conversation led us to topics related to the systemic forces that impact patient care, how the work she conducted as a 2016 Macy Faculty Scholar continues to evolve, and ideas she has related to improving Hispanic and Latinx representation within medicine. The following represents an excerpt of our spirited and—ultimately—hopeful conversation.

Dr. Holly J. Humphrey (HH): Cristina, as our country celebrates National Hispanic Heritage Month, I would like to focus on issues that are important in affecting their health and well-being. You have focused your work around implicit bias recognition and management, as well as communication behaviors and medical decision-making, with the overall goal of decreasing healthcare disparities. Based on all this experience, what is your view of the role of implicit bias in the ongoing healthcare disparities that persist among Hispanics and Latinx patients in the United States, compared to non-Hispanic whites? For example, 75% of these patients are more likely to have asthma, 63% more likely to have diabetes, and on and on.
Dr. Cristina Gonzalez (CG): In terms of the statistics that you mentioned, which are correct, I would say that implicit bias does not have such a direct, causal effect on disparities the way that structural barriers and systemic factors do.
Let's take a step back. If we think about higher prevalence of asthma and diabetes, there are systemic factors impacting those statistics. For example, here in New York, we have the Cross Bronx Expressway that barrels through what used to be very unified, ethnic enclaves in the Bronx. Aerosolized rubber not only causes lung problems, but also hypertension and many types of cardiovascular diseases. Because of systemic practices like redlining, a practice that still shapes many cities in the US today, communities of color, such as Hispanic communities, are disproportionately located around areas like the Cross Bronx Expressway.
If we consider redlining and the inability to get a mortgage, we see certain ethnic communities being forced to rent. The landlord who owns the house or the building does not manage the upkeep the same way that the renter keeps the individual unit. No matter how spotless you keep your apartment, if the building is infested with vermin, then there is a high prevalence of asthma.
So those are the systemic factors that lead to the increase in incidence and prevalence of healthcare disparities. But in terms of the management of these disparities, we then find that a patient's ongoing care is impacted by implicit bias. A patient may perceive bias from their provider based on that patient's lived experience. The implicit bias from the provider and the perceived bias of the patient may then impact what information the patient shares and the level of trust they have in their provider. It may also impact the questions a provider asks and how the provider speaks to the patient. There are diagnostic error disparities based on assumptions we make as providers due to implicit bias as well as disparities in medical decision making.
My work focuses on the behavioral part of the patient-physician interaction as a way to help us have the best outcomes that we possibly can. I view implicit bias recognition and management as a skill. If we can recognize the bias as it is happening, we can take a step back, talk with the patient, think through it more purposefully, and then deliver the excellent care we really want to give in the first place. Taking this type of approach involves communication and builds trust, and the patient keeps coming to see us. The patient is engaged in their care.
Let me give you an example that happened to a colleague recently: a Latina woman came in for a work-up for infertility. The woman was married to a man and the physician asked her if her husband had any children, which infuriated the woman. She was very insulted.
My colleague could not understand her patient's anger; in an infertility workup, it is a routine question to ask if the male partner has proven previous fertility. So, while other patients with other lived experiences would not have had such a negative reaction, this patient may have been countering stereotypes of teenage pregnancy or unwed mothers, which led to that reaction.
Had the provider used some of the implicit bias recognition skills that I previously mentioned, she might have quickly said, "Oh, I'm sorry. I should have led with, 'If there is a male partner, we always ask our patients about previous male fertility.'" I am sure that the patient would have felt much better. And the physician would have felt much better. These are just skills we develop, just like we develop all of our other history taking skills and physical exam skills.
A bias-free encounter may be the goal, but we are all going to make mistakes in our communication, just like we all make mistakes while learning to put in central lines or read CAT scans. We can grow from those mistakes and learn. If we engage with our patients in this way, we can really make a difference in moving these conversations forward, taking it as a learning experience rather than a moral indictment.
HH: In the 2020 census, 18.5% of people identified as Latino or Hispanic, one of the largest and fastest growing minority group in the United States. However, we know from data from the Association of American Medical Colleges (AAMC) that only 5.8% of active physicians identify in that same way. What do you think accounts for this disparity and what recommendations do you have for medical schools to improve their representation and inclusivity of those who identify as Latino or Hispanic in medicine?
CG: I think there are three major factors at play. The first is the K-12 public education system and the disparities that exist there, disparities that can—in some instances—be traced back to systemic racism from governmental policies that lead to segregation and decreased opportunity. If your local public school is not well funded and you do not get a quality education, it makes it more challenging to reach your full potential and thrive in terms of the opportunities that interest you. There are policies that lead to inequitable education in this country in terms of the resources devoted to each child in a given school. No matter how hard the teacher is working, there are only so many dollars per child; these disparities tie back to policies such as redlining and the resulting disparate property values leading to a lower tax base to fund the schools, resulting in lower quality education, and the cycle continues.
The second factor is a lack of role models, which is due in part to the way that we select students for admission to medical school. The MCAT correlates positively with your SAT score, and your SAT score is most closely associated with parental income. The MCAT is not a good predictor of who will be a good physician. And so you can see, here is another effect of the impact of systemic policies that perpetuate and exacerbate economic inequality.
The third factor is the lack of a sense of belonging within medicine. If our clinical learning environments could be more inclusive and more welcoming, and people felt like they belonged, then people would give greater consideration to entering the field and would stay within the profession longer. The fact that the Macy Foundation has belonging as a priority area will hopefully draw attention to the learning climates that we have, help us find out where they may not be as welcoming, and change them, just like we would change anything for patient safety or LCME accreditation.
All that said, change at the individual level is important, too. There are very smart people working on the systemic level, but we have domain over our own behaviors. It is going to take a multifaceted approach, because there is no silver bullet, but every incremental thing we do should move us in the direction of equity.
HH: One important component that enhances belonging among health professions students is the impact of mentors who can provide guidance and support. Is there a mentor or a role model whom you would like to recognize who has supported your career growth as a physician?
CG: I have a lot of mentors, and I am in a sweet spot in my career where I still have a lot of mentors, but I can pay it forward. I have many mentees and I love it.
The first mentor I will mention is Dr. Paul Marantz at Albert Einstein College of Medicine. He has been ever present in my faculty career from the beginning. He is a fantastic mentor and coach. He has been the strongest advocate at both the local and national level, and also a sponsor for me, putting me everywhere I needed to be that he possibly could.
The second mentor is Dr. Susana Morales at Cornell. Early in medical school I met Dr. Morales during a talk she gave at Einstein, where I was a student. I was so impressed by her then, and I later did an elective at Cornell and I visited with her as a fourth-year student. I trained at Cornell because of her; I wanted to be where she was. During my residency, Dr. Morales was an associate program director and one of the faculty advisors for the minority health staff committee and I was a minority health staff committee co-chair. She had a way of being present and available and able to see if something was wrong with one of the residents.
I aspire to be like her. She is brilliant; she is a visionary; and she is so kind. She is a fantastic role model of how you can be smart, a wonderful physician and teacher, a fierce patient advocate and social justice advocate, and still be the type of person who will hug you and check on you and just be a human to you.
Cornell's internal medicine program was a very competitive program. It can be intimidating when you go to a place like that. Having her there showed me that I too could be an academician, and that I too could do things on a big level.
More recently, Dr. Morales brought me in to collaborate on some of the education program evaluations of her Diversity Center of Excellence within the Cornell Center for Health Equity. It has been nice to help some of her trainees and to help her in terms of the program evaluation. Dr. Morales has always been present in my career but now, because of the Diversity Center, we have had a chance to collaborate on actual research projects, which I love.
HH: Cristina, do you have any words of inspiration for us as we all try to move in the direction of equity?
CG: My paper on implicit bias recognition and management, published in the Macy-sponsored December 2020 special edition for Academic Medicine, is titled "It Can Be Done!" To be able to recognize that bias is influencing an encounter and then use skills to mitigate that negative influence or manage the encounter to achieve the optimal outcomes we are trying to in the first place is really just a matter of modifying skills we already have. I would like to reiterate that the interventions I am working on are skills-based and utilize a growth mindset. It is also important to bring down the emotional charge of, "Oh. But it's about race. And I don't want to even go there." Because if we don't go there, we are not going to get to where we want to go.
We want to take good care of patients. We want our learners to thrive. We want our colleagues to thrive. In other words, we want environments where everyone feels like they belong. If we take the time to have interactions and conversations that come from a good place, it can be done.