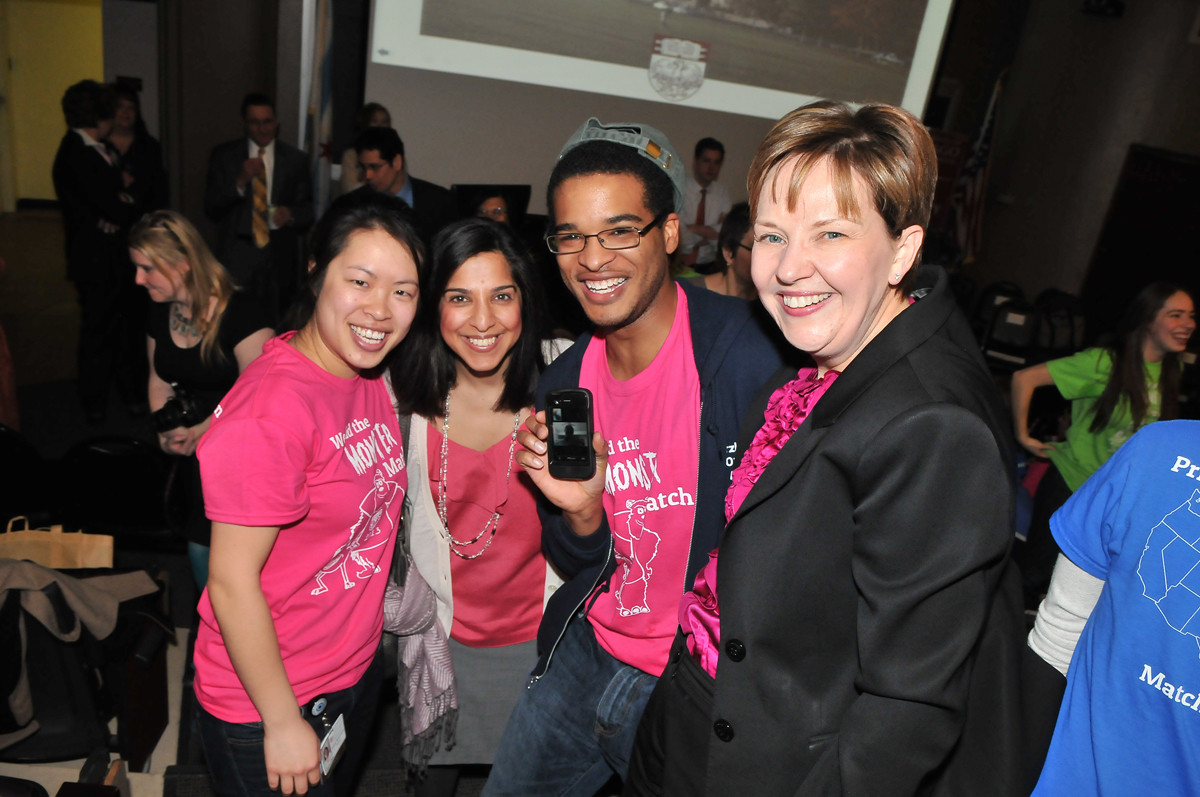 The Macy Foundation is excited to begin 2020 with the launch of Macy Notes: From the desk of Dr. Holly J. Humphrey, a regular blog featuring thoughts from the President, commentary on noteworthy topics in health professions education, and recognition of notable achievements. In our dedication to be an organization that improves health in the United States by improving the education of future health professionals, it is our hope that this blog will serve as an important tool in sharing our values, priorities, and goals.
We hope the ideas shared in this blog will be thought-provoking and encourage a productive discourse, both online and in person. We welcome your thoughts and feedback, now and throughout the months to come.
As we enter a new year, I am thinking about all that lies ahead for women in the health professions. The coming year—2020—marks the anniversaries of some historic strides made by and for women: the 100th anniversary of the Nineteenth Amendment giving women the right to vote; the 160th anniversary of the founding of the first nursing school, established by Florence Nightingale; and the 90th anniversary of the establishment of our own Josiah Macy Jr. Foundation by Kate Macy Ladd. I believe 2020 holds great promise and potential for today's female health professionals, and the Macy Foundation looks forward to supporting and celebrating their accomplishments.
Having women in leadership positions in the health professions is vitally important, yet well-documented disparities persist, especially in medicine. Despite the fact that more than 50% of medical school matriculants are female, a 2018 analysis in the Harvard Business Review reveals that only 16% of all medical school deans and department chairs are women. My hope is that more and more women will step into positions of leadership within medicine. With the growth of family-friendly policies in medicine, the TIME'S UP Healthcare movement, and a rise in scholarship promoting sustainable careers for women in medicine, 2020 should mark the year when the slope of the curve shifts toward gender equity in health professions leadership.
How did I grow as a woman leader in medicine?
Three factors were critically important to my development and achievement as a leader: a passionate curiosity about my daily work; a professional community of exceptional mentors and individuals I admired and wished to emulate; and learning to think strategically and speak a new language.
The mentors I was fortunate to have were extraordinarily supportive of my career development. They championed my growth and served as sponsors. These individuals were physicians, educators, and leaders who operated with deep respect for my career development and provided support and flexibility for my day-to-day work that made my career possible. When I was a young physician, mentors such as Dr. Arthur Rubenstein—then the chair of the Department of Medicine at my home institution—made it clear that one must seek the highest level of excellence not only in one's work but within the context of living according to one's personal priorities. For me, the ultimate priority was my family. Dr. Rubenstein set the tone for a supportive learning environment, and his credo gave me the freedom to nurture a rich family life. In turn, I had the sustaining energy to invest myself fully and enthusiastically in both my career and my family. Devoting time and energy to both of these worlds was often stressful, but ultimately it worked because of strong family support from my husband and mother. I fully recognize that many are not this fortunate and in some ways I was "a lucky one" because of this support both at home and at work. At the same time, even with these supports, the road was difficult. Work was energizing and at times overwhelming. Family life was nurturing and at times overwhelming. I learned that the myth of "having it all" really was a myth when "having it all" means "all at the same time." Although I sought excellence in both my work and my family life, I also gave myself a bit of leeway when reality did not meet my own expectations. In doing so, I discovered a resilience that helped propel me forward.
Throughout my career, I was surrounded by people I respected and wished to emulate. In Pulmonary and Critical Care, my chosen field, the expertise of the physicians and nurses working collaboratively as a team, caring for patients and their caregivers, inspired me at an early point in my career. Because the field uses myriad technologies to support life, the possibility of reducing one's patients to equations and quantitative assessments is a plausible reality. However, my teachers all demonstrated great humanity in their care of patients. As a team, we navigated many ethical dilemmas without losing sight of the person who was our patient. Surrounded by such strong role models reinforced principles that continue to guide me today.
Learning to think strategically early in my career was invaluable. As a young assistant professor and residency program director, I negotiated budgets with the hospital CFO who taught me to "count" differently. For example, I counted my residents as young physicians and he counted them as FTEs (full-time equivalents). I learned to make stronger arguments by supporting them with rigorous, quantitative analysis. Once I moved to the Dean's office, I quickly discovered that I needed to learn another language. No longer would my well-honed arguments for the moral high ground persuade. I needed quantitative arguments where numbers told the story in a convincing and unambiguous way. Once I developed and practiced these new skills, I discovered they were powerful. They worked!
What is working in medicine?
Progress is underway by and for today's women leaders in the health professions, as well as those of tomorrow. We are in the midst of a remarkable time with initiatives newly underway together with mature programs that are populating schools across the country with women leaders.
In September 2019, the Carrol Emmott Foundation launched the Equity Collaborative, an exciting new program bringing together 13 healthcare systems from around the country. Participating systems share their best practices pertaining to enhanced gender equity in the health professions. The Equity Collaborative builds on the noteworthy success of the Carrol Emmott Fellowship, a by-nomination fellowship that helps increase the "influence, impact, and national visibility" of exceptional female leaders, all with the goal of improving gender parity in the health care system leadership.
The Hedwig van Ameringen Executive Leadership in Academic Medicine (ELAM) program is a well-established leadership program for women in academic medicine, dentistry, public health, and pharmacy. The program has an impressive history. Since 1995, the program has produced more than 1,000 graduates. Their alumnae hold leadership positions at 263 academic institutions and include 91 chief executives or academic officers; 43 deans of accredited US medical schools; 20 deans of graduate schools; 233 department chairs; and 203 associate, senior associate, and vice deans. This is the leadership we need to see.
I am also excited by the goals of a more nascent group—the Center for Women in Academic Medicine and Science (CWAMS). In 2018, the Macy Foundation awarded a President's Grant to support the development of CWAMS, whose aims target changing academic science and medicine through the promotion of women to leadership roles as well as the dissemination of institutional best practices. CWAMS supports Individuals, leaders, and institutions through mentorship, networking opportunities, resources, and self-assessment tools.
Moving forward
In order to achieve the goal of seeing more women in positions of leadership, institutions must act thoughtfully and intentionally. To that end, I offer the following recommendations:
Institutions must do their own rigorous analysis of the structural barriers that may be blocking the path for women into leadership position: Are women's voices heard at the top of your organization? What are the family-friendly practices for child-care and sick time? What kind of support exists for meaningful help to the most junior women in your organization (e.g., when children are sick or elderly family members are in crisis)? Are you invested in developing a future leaders program to nurture the careers of future leaders in your organization? Is there someone responsible for guiding women on the journey to leadership?
Actively promote and seek women for leadership positions: When looking to hire for a leadership position, a search committee should be charged with seeking candidates who are female and/or who come from an underrepresented background. Institutions might even consider making public a goal of recruiting a specific number or percentage of women into leadership positions to encourage a more diverse applicant pool. Georgetown University School of Medicine employed such an approach in order to meet their goal of having 100 women as full professors on their faculty. Through their "100 Current Women Professors" campaign, launched in 2015, they saw a dramatic increase in applications for professorship and achieved their goal in the following year.
Compose search committees that include women—and not just a token woman: A search committee composed of diverse viewpoints and trained to recognize unconscious bias will offer a more rigorous, thoughtful selection process. These viewpoints should indeed be multiple; if a single woman is included on a selection committee, she may feel as though her voice is unheard or that her presence is solely for optics. When multiple women are appointed to the group, these women will likely feel more support in sharing their opinions.
Appoint women to chair positions within the search committee: By appointing a woman to chair a search committee, there may be greater opportunity for the voices of all those in the group to be heard. As the New York Times acknowledged last year, some of today's most successful women combine stereotypically feminine traits—think compassion and collaboration—with concrete action. Utilizing this skill set may aid a female committee chair in managing the many competing—and sometimes egotistical—views that can arise during a search.
Women, we can prepare for leadership opportunities. Practice thinking strategically and learn the language of quantitative argument. Many of us already do this in the course of our daily work managing a clinic or a grant or an education program. Now, take it to a higher level and apply strategic thinking and quantitative analysis to your career and to potential leadership roles. Leadership development programs can be helpful in honing new skill sets applicable to consensus building, fundraising, strategic planning, financial analysis, or to using new technologies. Most of all, by tuning in to our passion—our natural and sustainable source of fuel—we will stay connected to our authentic selves and increase our experience of joy!
Some of the greatest professional joys I experienced were possible because of the leadership positions I held and now hold: 14 years as a residency program director, 15 years as a dean for medical education, and the past year and a half as the president of a foundation. By supporting individuals and programs, the Macy Foundation looks forward to helping to cultivate a welcoming, supportive, opportunity-rich environment for all women who wish to become leaders—in 2020 and beyond.
Holly J. Humphrey, MD, MACP,