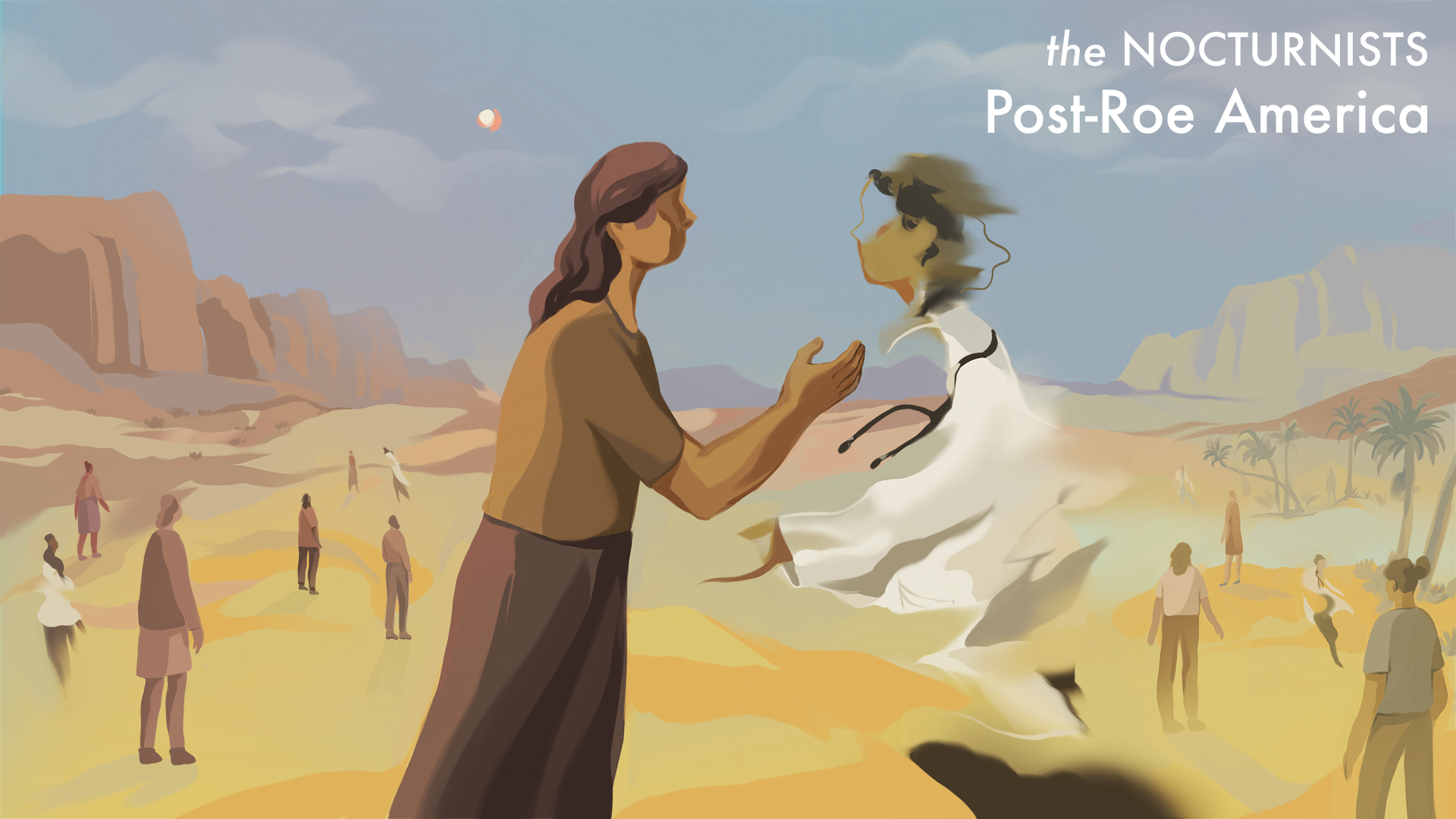 Since the Supreme Court's 2022 Dobbs v. Jackson ruling overturning Roe v. Wade and the right to an abortion, the U.S. has seen a substantial shift in abortion health policy across the country. More than 20 states have since banned abortion services or implemented abortion restrictions. These bans and restrictions are directly harming pregnant people who have lost the ability to make decisions about their own health. They are also having a devastating impact on medical education.
Long before the Supreme Court overturned abortion rights Alison Block, MD, was involved in abortion care and advocacy. As a physician and educator herself, she has seen how anti-abortion policies have affected what medical students learn and how those limitations impact our patients and our health system. Fighting for abortion access and reproductive rights has always been a priority for Dr. Block, one that can be advanced through storytelling. As a Writer and Executive Producer for The Nocturnists, Dr. Block is working closely with Nocturnists Creator and Host Emily Silverman, MD, on a podcast series focused on the lives of physicians and reproductive health care providers in post-Dobbs America. The podcast series will launch on September 21, with each of the seven episodes appearing weekly through November 3.
The Nocturnists
In 2016, Dr. Block connected with Dr. Silverman about moral distress and burnout among physicians, looking for a creative outlet for those struggling with the same feelings. "We felt like we, as physicians, were often separated from our humanity and creativity," explained Dr. Block. Dr. Silverman had already created a space that would be more supportive and welcoming than a typical conference room setting. She began by renting out small black-box theaters in San Francisco where physicians, health care workers, and others interested in those experiences could go to hear stories that were emotional, raw, and cathartic for storytellers. She called the series The Nocturnists, an official home for medical storytelling, and Dr. Block joined her to help it grow. Ahead of each show, a theme was determined for the night (i.e., mistakes, death and dying, justice, etc.) and Dr. Block and Dr. Silverman put out a call for submissions across different professional networks. The live shows were so well received they continued for years. "We really struck a nerve for the emotional outlet people were craving," said Dr. Block.
To preserve the live shows, The Nocturnists posted the recordings online and invited storytellers into the studio to further discuss the themes and takeaways of their experiences. The group went on to publish audio diary submissions during COVID-19, produce a series on the experiences of Black physicians, and create another series on Shame in Medicine.
When the Dobbs decision came down restricting reproductive rights and the specter of a monumental shift in U.S. health care and culture looming, Dr. Block knew it should be the focus of the next Nocturnists series. "We wanted to look at how this decision impacted physicians and abortion care providers professionally and personally; it's been sad, infuriating, beautiful, and compelling all at once," she explained. The series is split into seven episodes on different aspects of the post-Dobbs life for those working in reproductive health.
Medical Education in Post-Roe America
Each episode of the Nocturnists series tackles a different topic impacting health professionals in a Post-Roe America. They look at everything from the pre-Dobbs SB8 bill in Texas, an abortion clinic in Kansas, advocacy efforts, how restrictions have affected providers, and more.
One episode focuses specifically on the Dobbs decision's impact on medical education. "We know this is a horrendous time in our history, and we must chronicle the ramifications of this decision and its impact on both physicians and medical students," said Dr. Block. Based on state-level restrictions, the curriculum for medical students can vary immensely, creating inconsistencies and gaps in medicine. For example, Dr. Block explained many of the skills used for abortion and miscarriage management are the same. If restrictions limit the way these skills can be taught in medical education, there are serious questions about how they can be performed successfully, or at all, in real-world scenarios. Notably, many states with restrictions only allow these procedures to be done when a patient is hemorrhaging or actively dying, creating a dangerous high-intensity situation for a doctor to perform a procedure they haven't been able to practice in a controlled setting.
Dr. Block emphasizes, "limiting access to training for abortion is not just personally devastating and disappointing for many trainees, but ultimately devastating for the communities that they're going to serve if they don't have the skills they need to perform potentially life-saving treatments." Furthermore, limiting medical education in one state affects the entire U.S. health system by creating inconsistencies in care between states and professional skill sets. It's just one of the many reasons why the Dobbs decision was so impactful.
The education episode features insight from two attending physicians who have been teaching reproductive health for decades, and are abortion providers themselves. Dr. Block also interviews a medical student and a resident to discuss how the Dobbs decision is impacting their personal and professional choices. Navigating this new health policy landscape is difficult for many people in the field, and the podcast series aims to provide a safe space to share stories and bring the community together in support. Bringing awareness to the issue is just one part of the puzzle, advocacy is another avenue explored later in the podcast.
What's Next?
Along with the new season of the Nocturnists podcast, there are educational materials available on the history of reproductive health and justice in America. The materials will include a historical primer on the contextual history of the Supreme Court's decisions on abortion access including Roe v. Wade and Planned Parenthood v. Casey, as well as other historical moments and precedents that led up to the Dobbs decision. There will be information available on the current state of national and state-level restrictions on abortion and facts dispelling myths and misinformation about abortion services. The Nocturnists team has also developed a self-assessment tool to help individuals explore different advocacy opportunities. Dr. Block emphasizes, "There are many roads to advocacy, and no one must do all of them. It's most important to find out what works best for individuals. Fighting for reproductive justice requires determination and patience, so we want people to find what's most sustainable for them over time."
You can listen to the trailer for the series here.
Episodes will begin airing weekly starting today, September 21, with the education-focused piece (The Next Generation) airing on October 26. There will be seven episodes in total. The full list is below.
Episode 1: The Day Roe Fell (September 21)
Episode 2: The Canary (September 28)
Episode 3: Trust Women (October 5)
Episode 4: Uprooted (October 12)
Episode 5: Culture of Silence (October 19)
Episode 6: The Next Generation (October 26)
Episode 7: Futures (November 2)
Interested in becoming a Macy Foundation grantee? Check out our grantee page for upcoming opportunities.