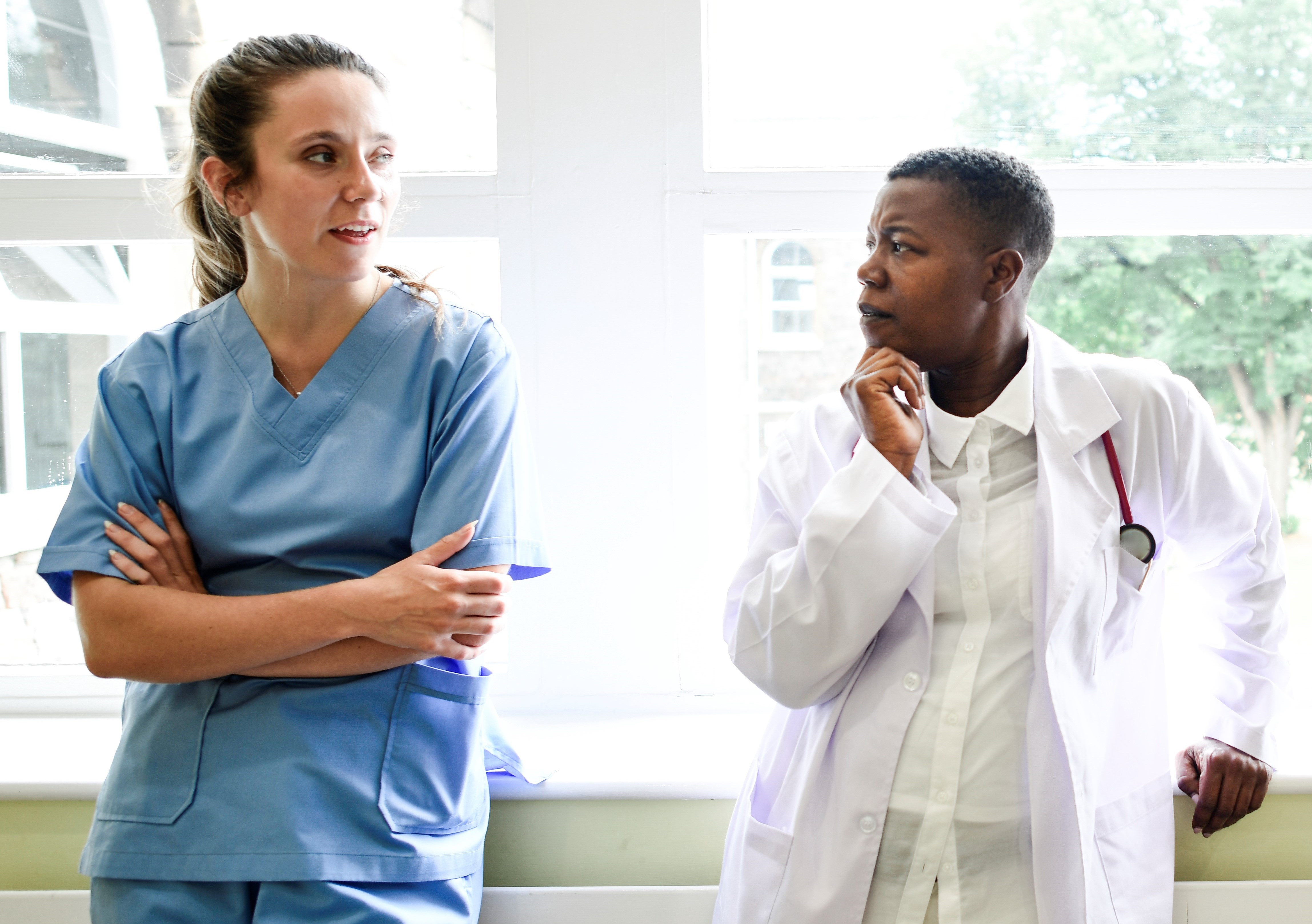 One of the formative experiences of my medical education came during my internship and residency in internal medicine at The University of Chicago.
In the early 1980s, our team was perplexed by a growing number of young and otherwise healthy men presenting with a rare pneumonia and/or skin lesions of Kaposi's sarcoma. These findings were accompanied by compromised immune systems, sometimes leading to prolonged hospitalization and death.
In multidisciplinary conferences with pathologists, nurses, infectious disease experts, and pulmonary critical care specialists, we struggled to understand this illness and how to design the most effective treatment. Over the ensuing months and years, the disease came to be known as AIDS.
Traditional academic silos and hospital hierarchies disappeared as this epidemic spread. No one cared what department you came from or what degree you held. If you had a theory worth investigating, or a treatment idea that could improve patient outcomes, everyone listened.
In my 40 years of health care experience, I have never seen a public health crisis catalyze greater collaboration within clinical learning environments—until now.
In overwhelmed communities today, the same collaborative spirit that characterized the early response to the HIV epidemic has reemerged in the fight against COVID-19.
Public health and health care leaders are working more closely than ever to reduce transmission, inform state and local policy directives, and educate people about the importance of social distancing. Regulators, health systems, and learning institutions are also working cooperatively to bolster the health care workforce in hard-hit areas. For example, governors waived licensing requirements for out-of-state providers, and some medical schools invited fourth-year students to consider beginning their clinical service early.
Making Collaboration the New Normal
The evidence is clear that collaborating across disciplines works better, enhancing patient experiences, reducing mistakes, and improving clinical outcomes. That's why the Macy Foundation designated increasing collaboration among future health professionals as one of three core priorities in our new strategic plan.
In this blog, I will share some ideas about how to make the current collaborative resurgence a permanent feature of clinical learning environments and prevent a reversion to the traditional model, where students, residents, and graduate students often learn and train in isolated "silos."
Upgrade Teaching about Pandemics and Emerging Disease Risk across Degree Programs
In many health professions learning environments, the study of emerging pathogens that can lead to pandemics does not get the attention it deserves. Existing cursory reviews should be enhanced with deep, cross-disciplinary study of emerging disease risk, including lessons learned from the COVID-19 pandemic. Featuring the insight of multiple professions, especially public health and social sciences, will not only provide students with a broader perspective but also model the kind of collaboration needed to achieve good clinical and societal outcomes.
I envision public health, nursing, and medical school faculty working together to develop and teach curricula for students in each of these professions. Creating more opportunities for interdisciplinary teams to learn from each other, in classroom and clinical settings, would normalize collaborative practices and send a powerful message about the value of working together.
Modernizing How Health Professional Learners Enter the Clinical Experience
In the first days of the COVID-19 pandemic, hospitals, nursing homes, and other health care settings quickly cancelled clinical rotations for students, both to protect their safety and preserve dwindling supplies of personal protective equipment (PPE). This was an understandable decision, given serious PPE shortages, but it was also a lost opportunity for students, who missed out on a valuable learning experience.
These events are already prompting discussion in learning environments about how future health professionals can engage in their clinical experience in ways that increase learning efficiency and effectiveness while limiting safety risks.
Telehealth is one example of a virtual format that provides direct patient benefit with minimal risk. Telehealth has long been used in critical care environments to connect specialists in large teaching institutions with small rural facilities that may lack critical care experience. However, outside of these and a few other examples, telehealth has not yet lived up to its initial promise. Consideration of expanding telehealth as a clinical learning tool is long overdue. In addition to reaching remote areas in need of greater health care, telehealth can also be a highly efficient training tool, exposing learners to a wide range of patients from a broad geographic area.
Expanding use of creative simulation is another way to create efficient learning experiences that teach collaboration and prioritize managing difficult clinical problems. The Macy Foundation is exploring this kind of experiential learning through several projects, including a recent grant to the University of Utah to support a project designed to identify sources of bias and reduce racial inequity in maternity care.
The University of Utah project shares the stories of actual patients in an interactive theater experience with students from nursing, medical, pharmacy, social work, and occupational and physical therapy schools. As patient stories unfold, learners work together as an integrated team to identify biases, build empathy with patients, and explore alternative paths that increase patient comfort and may lead to better clinical outcomes. If successful, the model will expand to other learning institutions.
Changing Public Policies and Institutional Practices to Promote Greater Collaboration
Many of these ideas require policy support to succeed, from both government and institutional leaders.
For example, telehealth has not achieved its full potential in part because payers do not fairly compensate providers for virtual care—if they provide compensation at all. To improve utilization and create the kinds of positive learning experiences that may be possible, government and private payers need to change payment systems to encourage telehealth.
Embrace Change during a Historic Month of Transition
I am sharing these thoughts now because June is an important month for the next generation of health professionals. As the summer begins, medical students start internships, and newly graduated nurses, social workers, allied health, and public health professionals begin full-time jobs. It is always a challenging time, but never more so than now.
Today's graduates are entering the health care workforce during the toughest crisis in a generation. The next few months will be difficult for them, and for all of us.
However, my spirits are buoyed by a lesson taught by John F. Kennedy when he ran for President in 1960. At the height of the Cold War, he told an anxious nation that the Chinese word for crisis is composed of two separate characters: the first representing danger, and the second meaning opportunity.
I hope that future health professionals, and the learning environments supporting them, will embrace this opportunity to increase collaboration, whether at the bedside or in the laboratory. To solve our toughest health challenges, we must create a new norm of high-functioning interdisciplinary teams working together and supporting each other.
The Macy Foundation is committed to supporting this kind of collaboration not only during exceptional crises but also under normal conditions. It is one of our most effective strategies for helping health care learning environments improve both clinical and educational outcomes.
Holly J. Humphrey, MD