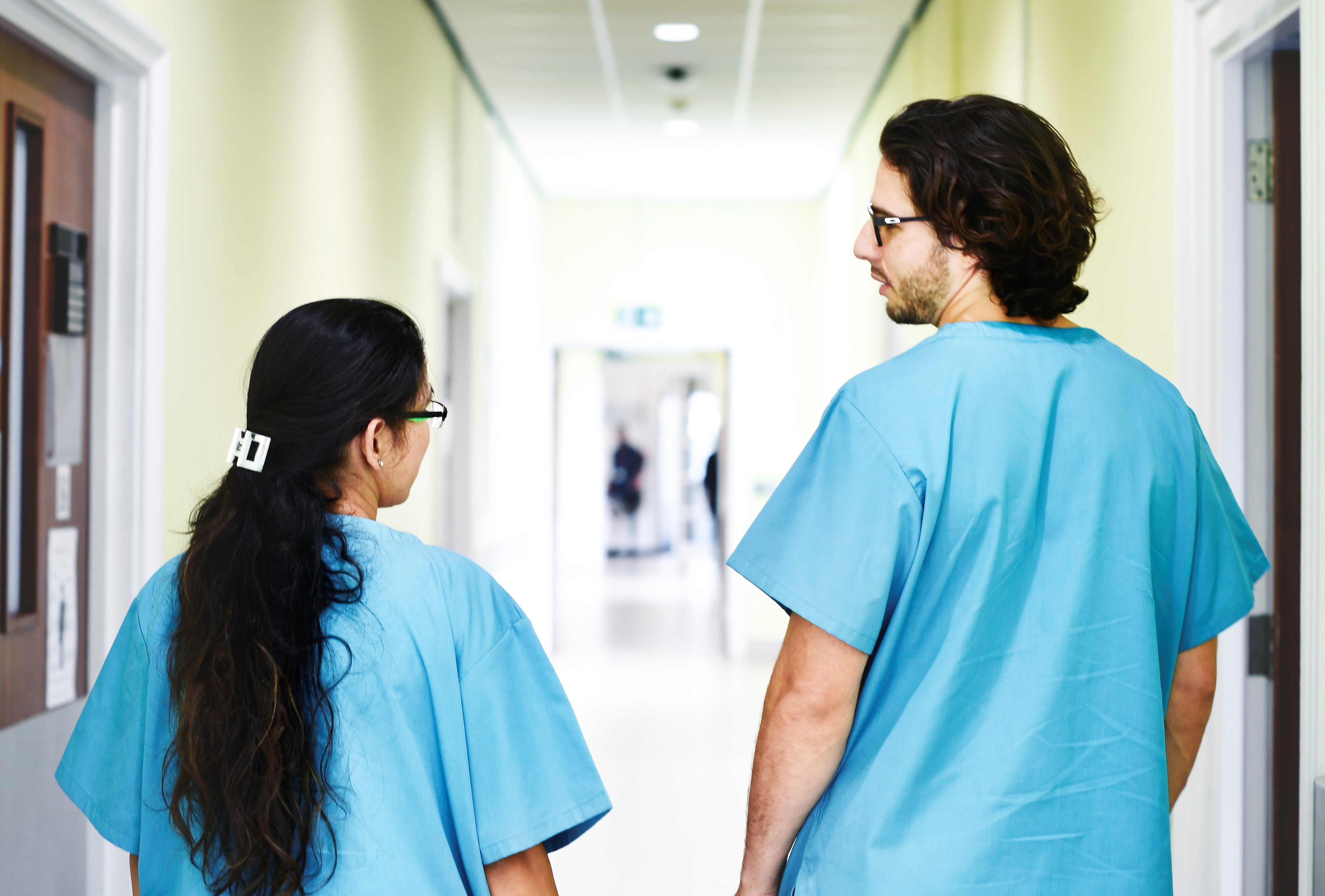 We are in the midst of an unprecedented time, with the world in great need of health professionals they can trust working on the front lines of care and prevention, treating the ill, and helping to quell the spread of COVID-19. We're extremely fortunate that across the country, nurses are fighting the pandemic.
For 18 years in a row, Americans have named nurses as the most trusted among a list of professional occupations. According to a Gallup poll, 85% of those surveyed in 2019 said nurses' honesty and integrity were "high" or "very high"; by comparison, the second-highest-rated profession, engineers, received such ratings from 66% of respondents. Through my own personal experiences as both a physician and as a patient and family member of a patient, I can easily see how this impressive, consistent ranking for nurses came to be.
When the World Health Organization declared 2020 the International Year of the Nurse and Midwife in honor of the 200th anniversary of Florence Nightingale's birth, they likely did not envision the recognition to fall against the backdrop of a worldwide pandemic. The outbreak of the novel coronavirus underscores the importance of trust within the health system and in those responsible for protecting the nation's health and caring for the afflicted.
Why are Nurses so Trusted?
Through their Trust in Health Care focus area, the American Board of Internal Medicine Foundation (ABIMF) highlights an important truth: trust is built on relationships. This adage cuts to the heart of the nursing profession, as a nurse's work is based on relationship-building. It is not transactional.
(More from Macy Foundation President, Holly Humphrey: Psychological Safety Is a Science-Based Practice—Not "Coddling")
As Haider Warraich, MD, a cardiologist at Brigham and Women's Hospital, shares in an opinion piece for STAT, many reasons contribute to the overwhelming trust that patients place in nurses:
Nurses spend more time with patients administering direct care: Nurses provide hands-on care, be it through tending to wounds, providing medication, or helping to ensure that a patient is comfortable.
The time spent with patients and their families make nurses powerful allies: Not only do nurses have many opportunities to provide hands-on care to patients, they also spend far greater time with patients than other team members do. By getting to know patients and their loved ones, nurses often become advocates for the wants and needs of those under their care.
A core aspect of nurses' education focuses on empathy and kindness: In a health care setting, the patient is always the most vulnerable person in the room. Because of this vulnerability, it is easy to understand why patients and their families would feel a heightened sense of trust in a kind and caring nurse.
What Can the Health Care System Learn from Nurses?
Caring, compassion, creativity, and dedication are all part of the DNA of nursing, dating back to Florence Nightingale.
Nurses are also natural problem-solvers. As Divina Grossman, PhD, RN, FAAN, President of University of St. Augustine for Health Sciences, notes:
Because of the virtue of training and education in any health care setting, nurses are accustomed to seeing the entirety of a problem and dealing with many different groups to help solve issues. Whether it's medical errors, quality of care or the efficiency of how health care is delivered, an enormous amount of coordination and knowledge of the environment and systems is required. Nurses are effective with a systems approach because nothing in the health care setting can be addressed without it.
In the midst of the coronavirus pandemic, we are also witnessing remarkable examples of compassion and creative problem-solving from our nurses in the way they care for patients and their loved ones. In a recent interview on CNN's Cuomo Prime Time, a young ICU nurse speaks about her experience at one of Georgia's hardest-hit hospitals. While the role of an ICU nurse typically involves a high level of interaction with the patient's family, today's circumstances are forcing families to separate in order to protect loved ones from the spread of COVID-19—a heartbreaking and challenging reality for all involved. In this particular interview, the nurse—Carley Rice—talks about using FaceTime to offer solace: "I hope I'm giving [the family] peace and comfort. That's my main goal. I will do my best to keep the patient comfortable…but I'm also supposed to take care of their loved ones."
(More from Macy Foundation President, Holly Humphrey: Clinical Learning Environments Lead the Fight Against COVID-19)
Our students, residents, and graduate students are well-served by observing and learning from the way nurses approach the practice of caring for patients and their families.
An Enduring Commitment to Nurses, Midwives, and Their Education
At the Macy Foundation, we're proud of our long history of supporting nurses and their work. The Foundation has also supported the distinct role of midwives in the United States; as noted in a 1981 report to the U.S. Congress and the Secretary of Health and Human Services, the Foundation led conferences to discuss the future of midwives in 1956 and 1957.
With our commitment to advancing the education of health professionals, we continue to invest in innovative and cutting-edge efforts aimed at better preparing the next generation of nurses.
In 2016, the Macy Foundation provided a grant to support Promoting Nursing Leadership in Interprofessional Education in Community Settings, a project led by Barbara Brandt, PhD, EdM, FNAP, as a part of the National Center for Interprofessional Practice and Education, based at the University of Minnesota. Through the project, advanced practice nurse leaders at 16 health care sites were charged with building an interprofessional team that also included members of the community. These types of partnerships are essential to the well-being of the general public. The results from their efforts are providing the National Center with information that will allow it to develop critical tools to support strong campus-community partnerships.
Through our Macy Faculty Scholars Program, we have also supported the careers of a number of promising educational innovators in nursing.
Maja Djukic, PhD, RN, a 2017 Macy Faculty Scholar, focused on preparing nursing students for positions as virtual population health managers through her project Integrating Management of Patient Panels Across the Curriculum with Technology (IMPPACT). Dr. Djukic's work points to the future of nursing where nurses continue to serve as trusted advisors, building strong relationships with their patients, but doing so in a way that makes use of advances in technology in order to serve a wider array of patients.
One of our current Macy Faculty Scholars, Amanda Kirkpatrick, PhD, RN, participated in a recent webinar series titled Connecting at the Nexus: COVID-19 Edition to share information on transitioning case-based interprofessional education experiences to virtual interprofessional simulations. As schools grapple with the need to adapt the way we train health professionals in the face of COVID-19, Dr. Kirkpatrick's leadership is much needed.
These projects illustrate the innovative ways that primary care may be taught and practiced in the future—with nurse educators paving the way. We must continue to make bold changes in our learning environments where clinical care is delivered—including hospitals, community clinics, homes, and other outpatient settings—to improve the education of all health professionals and achieve a healthier public.
A Profound Legacy
I imagine that many, if not all, of you have your own personal story of a nurse who cared for you or for a loved one. Recently, I heard a touching Story Corps discussion between a retired 93-year-old nurse—Ruth Owens—and her grandson, one of several members in Ms. Owens's family who decided to follow in her footsteps and pursue a career in nursing. Early in the conversation, Ms. Owens commented that in order to be a "true nurse," one must have compassion. She goes on to talk about the many people who have approached her throughout the years, saying that they will never forget the care she provided to them or to a family member.
As we can see through Ms. Owens's lifelong legacy, overwhelming trust and admiration for nurses is not merely an 18-year phenomenon, nor is it a recent development understood only in light of the unprecedented circumstances of today. The impact of nurses is one that has persisted throughout decades, if not centuries.
We at the Macy Foundation join the world in celebrating nurses and the role that they play in ensuring that patients and communities receive trusted, compassionate care.