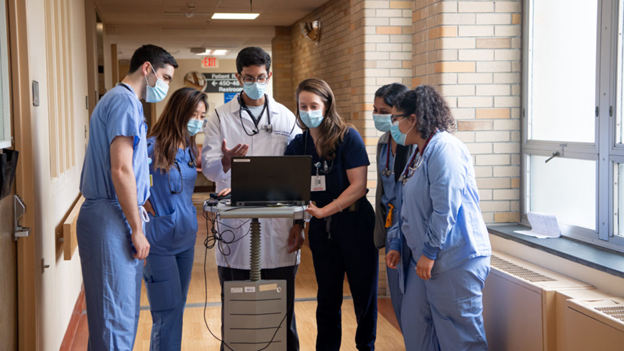 Earlier this fall, I had the honor of giving one of the plenary addresses at the American Heart Association's Research Leaders Academy—an annual event which brings together scientists and physicians to explore and debate research issues in cardiovascular health and build mentoring and scientific collaboration networks for senior and future leaders. I was asked to speak on professional identity formation and mentoring in medical education. One of the key points that I made during that talk was to convey the incredible rewards that come to those who teach and guide the next generation and to make a case that all clinicians and scientists should make a practice of incorporating education—in whatever format that may be—as part of their careers.
Today, as we celebrate teachers around the world on UNESCO's World Teachers' Day, I would like to make this case again. This day celebrates teachers around the globe and honors the myriad ways in which teaching transforms not just learning but learners. As someone who has devoted her entire career to various roles in medical education, I can personally attest to the significant rewards and personal satisfaction that accrue in valuing and supporting learners and helping them achieve their goals. Those who work in health care environments and medical centers are modeling, mentoring, instructing, coaching, designing, and participating in educating the next generation of health professionals whether we realize it or not.
Five years ago, the AAMC sponsored a session on "Educators of the Future: 2025 Job Roles" at their annual meeting, which looked at how outsourcing of education, technology, the role of data in education, and the learner as a co-creator had caused a fundamental change in what it meant to be an educator in the 21st century. The presenters identified six roles that comprise what it means to be a medical educator:
2025 Medical Educator Job Roles
Diagnostic Assessor: Use results of big data to identify individual/group performance gaps to individualize training
Content Curator: Access, select, sequence, and deliver high-quality content developed by national experts
Technology Adopter: Be an early adopter and fluent in selecting and using appropriate technology tool(s)
Learner-Centered Navigator and Professional Coach: Guide learners' use of resources and practice to achieve identified performance targets
Clinician Role Model: Exemplar for the various 2025 physician job roles
Learning Environment Designer, Engineer, Architect, and Implementer: Designs the "space" to optimize learning informed by sciences
As I reflect on this list, I am struck that this list is applicable across the health professions. While some educators will need to be competent in every role, the list offers a range of opportunities for those whose professional roles and responsibilities may not center on education but who have responsibility for advancing the next generation of health professionals who will in short order be caring for all of us.
Our learners should also be co-creators of their educational experience. This concept was very much at the heart of the recommendations that emerged from our 2021 Macy Conference on COVID-19 and the Impact on Medical and Nursing Education, and it was reemphasized in our blog post from January of this year, which featured an interview with education leaders Robbie Henson, PhD, RN, CNE, and Subani Chandra, MD, as well as rising third-year medical student, Jennifer Dias, BA, on the benefits of co-creation as a new paradigm in health professions education. One of the key revelations of the COVID-19 pandemic was the way in which traditional health professions education hierarchies inhibit the contributions and autonomy of learners—and learners have much to share and to contribute to their education.
Another key benefit of co-creation is reverse mentoring. Having spent decades working with residents and students, I can attest to how much they taught me and supported my own professional growth. This was obvious when it came to using the latest technology, but their hopefulness, optimism, and altruism also played a big part in keeping me connected to the values and principles of the profession.
It is an honor to serve as the president of the Macy Foundation and devote myself to supporting educators in the health professions by way of our grant-making endeavors and the Macy Faculty Scholars Program. The innovative work of our Scholars and grantees and their stories of teaching and leading on the front lines of health care inspire me deeply. More importantly, their efforts help advance health professions education in a way that improves the lives of the patients and communities whom they serve. So, please join me today in thanking the educators who inspired you on your professional journey, and let me encourage you to take up the mantle on behalf of the next generation.