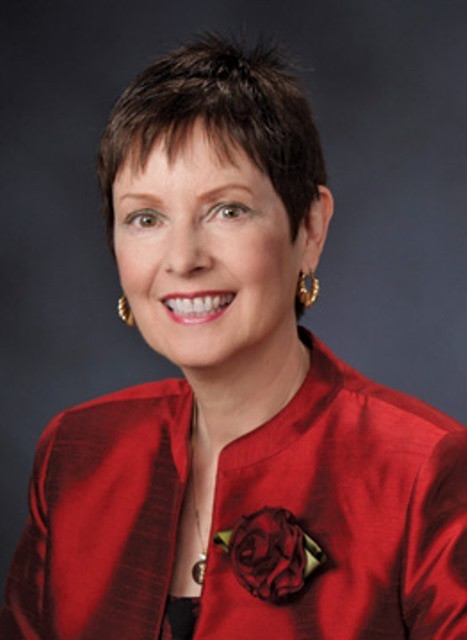 During the 2022 Accreditation Council for Graduate Medical Education (ACGME) Annual Educational Conference, I had the pleasure of announcing the new Josiah Macy Jr. Foundation Catalyst Awards for Transformation in Graduate Medical Education. Through these awards, the Foundation will have the opportunity to invest in programs that promote civility, psychological safety, and thriving in the clinical learning environment. Earlier this month, we began formally accepting applications for the Catalyst Awards and hosted an informational webinar to share details about the Award. For those who were unable to join us, I invite you to view a recording of the webinar here.
In an effort to shine a light on some of the key challenges and opportunities in graduate medical education, as well as the work being done by the ACGME to advance the educational experience of residents and fellows, I spoke with Karen J. Nichols, DO, MA, MACOI, FACP, CS-F, chair of the Board of Directors for the ACGME.
Holly J. Humphrey (HJH): In 2020, the Josiah Macy Jr. Foundation announced a new 10-year strategic plan which calls for bold changes in clinical learning environments (CLEs), affirming that our learning environments must "inspire and uphold the highest standards of the profession so that together we can ensure optimal learning for our trainees and exemplary care for our patients." What do you see as the most important factors necessary to ensure that learning environments in graduate medical education (GME) achieve this goal?

Karen Nichols (KN): As Chair of the ACGME Board of Directors, our work on the CLE through the Clinical Learning Environment Review (CLER) program perfectly aligns with your emphasis on making such improvements. The CLER program provides feedback to Sponsoring Institutions (SIs) aimed at improving patient care while optimizing learning in six cross-cutting focus areas: patient safety, health care quality (including health care disparities), care transitions, supervision, professionalism, and well-being. The program also encourages SIs to address issues in the CLEs. This feedback does not have any impact on accreditation status. In 2012, ACGME launched CLER as a formative program and has studied the CLE through cycles of site visits and subsequent reports, starting with the first National Report in 2016 and continuing through the most recent National Report in 2021. This latest National Report covers both larger and smaller SIs, reflects data from SIs that have completed three successive CLER site visits, and includes previously American Osteopathic Association-accredited SIs that have been added through the single GME accreditation system. Our mission at the ACGME, "to improve health care and population health by assessing and enhancing the quality of resident and fellow physicians' education through advancements in accreditation and education," supports the Macy Foundation's emphasis that CLEs must "inspire and uphold the highest standards of the profession so that together we can ensure optimal learning for our trainees and exemplary care for our patients."
HJH: You became chair of the ACGME's Board of Directors in 2020, and since that time, CLEs have experienced stressors unlike any other in recent history. These stressors were specifically acute in GME. What were the main issues that the ACGME saw during the COVID-19 pandemic and how did the ACGME mobilize to balance the competing concerns and to support resident physicians?
KN: The stressors on the CLEs since 2019 are unlike any other in recent history. With the pandemics that we are facing—COVID-19, violence, and social disruption, to name a few—there are significant medical components and a resultant impact on health care. In addition to caring for patients, the demands of conducting meaningful and appropriate medical education, especially GME, could not be more challenging. As we have often been reminded, our physicians are heroes, especially as we deal with today's health care needs, and our residents and fellows have had to straddle patient care demands with their medical education needs and requirements. The ACGME established a pandemic Emergency Categorization program, fully outlined on the ACGME website. The concept is that SIs that were experiencing major demands from the COVID-19 pandemic in their region could apply for an Emergency Status categorization. The ACGME fully understood the need for temporary adjustments in the education program in the face of overwhelming pandemic pressures. At the same time, our main emphasis is still the well-being and education of our GME learners. The ACGME reaffirmed its four requirement priorities during the COVID-19 pandemic around work hours, adequate resources and training in infection control, adequate supervision, and fellows functioning in their core (primary) specialty.
HJH: The pandemic took and continues to take a tremendous toll on the mental health and well-being of everyone working and learning on the front lines of health care. How has the ACGME taken steps to ensure the psychological, emotional, and physical well-being of resident physicians?
KN: Physician well-being has been one of the top priorities of the ACGME board for the past several years. In addition to including well-being as one of the previously mentioned six CLER focus areas, the ACGME has focused its efforts related to well-being on accreditation, community outreach, research, and education.
In 2017, the ACGME joined as co-chair of the Action Collaborative on Clinician Well-being with the National Academy of Medicine and other members of the health care and medical education community to address clinician well-being, specifically the challenges posed by the rapid changes in health care organizations and in patient needs. Specific resources resulting from this initiative can be found here.
Further, the ACGME has collected and developed a number of outstanding well-being tools and resources available to the GME community, including a COVID-19 guidebook, available through the organization's learning platform, LEARN at ACGME.
Additionally, the CLER COVID-19 protocol focused on four well-being priority areas as delineated in the CLER Pathways to Excellence, Version 2.0: work/life balance, fatigue, burnout, and support of those at risk of or demonstrating self-harm. The purpose is to assess the depth and breadth of these aspects of well-being in our CLEs.
HJH: At the ACGME 2022 Annual Educational Conference, the Josiah Macy Jr. Foundation announced the Catalyst Awards for Transformation in GME, providing six awards for up to $50,000 each. These awards will support programs that promote civility, psychological safety, and thriving in the CLE for residents and fellows. Can you offer your thoughts on how this new awards program might be utilized to help trainees flourish in the CLE? What key areas would you like to see these projects address?
KN: The new Josiah Macy Jr. Foundation Catalyst Awards for Transformation in GME is a laudable major step forward addressing both our missions, with our shared focus. The award, with its focus on providing support for specific strategies that foster civility, psychological safety, and thriving in the CLE for residents and fellows, reminds me of a program at the ACGME—one that echoes the same concerns, with a slightly different emphasis. Back to Bedside is a resident-led initiative to empower medical residents and fellows to create innovative strategies for increasing time and connection with patients, fostering joy and meaning in work, and improving physician and patient well-being. The ACGME just announced the new list of funding recipients for 2022-2024. Prominently noted across the list of projects are these words: joy, compassion, connections, humanizing, personalized, meaningful interactions, and rapport building. Inspiring and flourishing work, generated from and by the residents themselves!
You ask what key areas I would like to see your new awards program address. Certainly, I think the ACGME CLER areas of emphasis are a reasonable starting point as they have been modified and edited based on hundreds of CLER site visits over many years. However, our experience with Back to Bedside has shown us that health care will always benefit from the commitment and insight of our GME colleagues and learners, which collectively provide the best understanding of what is needed for continued improvement in areas that will both meet the mission and promote faculty and learner well-being. You may be surprised at what award-worthy projects the Macy Foundation may inspire!
HJH: As chair of the Board of Directors of the ACGME, what goals have you set for yourself and the organization? How will you define success?
KN: As chair of the Board of Directors of the ACGME, my task is to lead our board toward our shared goal to meet our mission, stated above. Further, the ACGME strives to not just meet our mission but to honor our mission. Not all of your blog readers may be aware of the composition of the ACGME board, which includes residents, faculty members, public members, deans, Designated Institutional Officials, program directors, and hospital administrators, bringing a wide background of expertise and perspectives. We have 15 strategic initiatives that are updated every three to four years to address the changing landscape of health care and GME.
If I would have a personal goal as chair of this outstanding board of amazing individuals coming together with expertise in all aspects of health care, it would be to emulate our best principles and to model that same philosophy of competence and caring in leading our board, which we strive to inculcate in our learners. As the first DO and the third female board chair, I understand the importance of serving in an exemplary fashion, to the best of my ability. But I would do that anyway! It is such an honor to serve and honor our mission.
HJH: What advice do you have for the class of interns who are set to begin their residency training in July? What key strategies can you offer to help them be successful in their new roles?
KN:
Get out the personal statement you wrote for your application to medical school. Remember your "why." It's never been more applicable than it will be starting July 1.

As they say when you get on an airplane: "Put on your own mask first, then help others." We as physicians always are cautioned to put our patients' best interests ahead of our own, but that doesn't extend to damaging your own health and well-being. Take care of yourself.

Never be surprised that being a doctor is hard; it's supposed to be. Because it's that important.
Best wishes as you leap into the GME phase of your career. I envy you. This is now more your profession than it is mine. Cherish it! And congratulations!