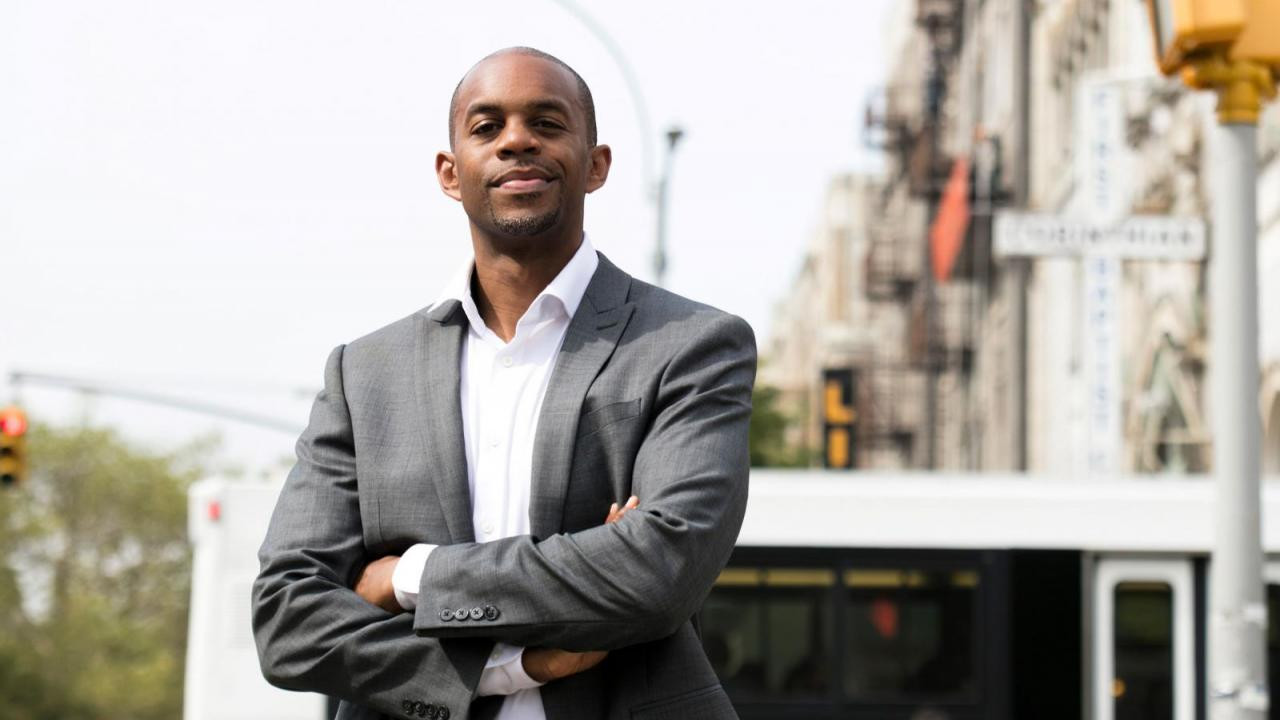 Since the beginning of the year, I have been honored to speak with some remarkable individuals and share those conversations as a means of highlighting timely celebrations such as Black History Month and Pride Month. This month, I am delighted to shine a light on a similar observance that may not be as widely known, but one that is deeply important, especially now—Minority Mental Health Awareness Month. In this July Macy Notes post, I had the opportunity to learn from Sidney Hankerson, MD, MBA, Associate Professor of Clinical Psychiatry at Columbia University, Vagelos College of Physicians and Surgeons and Research Scientist at the New York State Psychiatric Institute. Dr. Hankerson's work related to improving access to mental health services for African Americans by engaging faith-based and community leaders is innovative and inspiring. The following reflects a portion of our conversation.
With the events that took place over the last year and a half—namely COVID-19 and the uprising against structural and systemic racism that is reverberating around the country—disparities in access to and outcomes of mental health services for BIPOC communities have come to the fore. However, the reality of this inequity is not new. What do you believe to be the key underlying issues that perpetuate this disparity?
One of the key drivers of these disparities is structural racism. My favorite framework that examines racisms is from Dr. Camara Jones and focuses on institutionalized or structural racism, individual or personally mediated racism, and internalized racism. Institutionalized racism is the prevention of access to goods, services (including health care services), and opportunities by race, and it is the reason that socioeconomic factors are linked to race. Calling out racism as a fundamental driver of health disparities is crucial, and it is also becoming much more common, which is outstanding to see.
Another key driver is just lack of access to care. So many communities just do not have access to quality services.
Right now, we are seeing—through vaccine hesitancy—a distrust with health professionals and health information in general, as well as low levels of health literacy. I think these are some of the key drivers.
Your NIH-supported research focuses on training clergy to offer Interpersonal Counseling in faith-based settings in an effort to increase and improve access to mental health services amongst African Americans—more specifically, how to counsel community members suffering from depression. What have you learned from your research?
There was a landmark paper that came out nearly 20 years ago that examined data from the National Comorbidity Survey Replication which showed that people in the United States— when they are first experiencing a mental health problem—are more likely to seek help from a faith leader than they are to seek care from a psychiatrist or general medical provider. That paper provided empirical evidence that clergy are frontline mental health providers. In the African American community in particular, clergy have been providing informal counseling for years. In our work, we have to tried to train clergy in evidence-based interventions for depression specifically. When we got the funding to do our research, a pastor said, "We actually don't have the bandwidth to see more congregants," and so we had to shift gears. In partnership with Dr. Olajide A. Williams, a neurologist at Columbia, we created an institute for training community health workers who were recruited exclusively from Black churches. These community health workers are trained in an eight-week curriculum based on the CDC's model of training community health workers and can enroll uninsured New Yorkers in health insurance. We currently have an NIH-funded R01 that is testing the impact of medical intervention delivered by these church-based community health workers compared to enhanced usual care for engaging congregants in depression care and looking at their clinical outcomes.
One of the things that we are proudest of is that one of our churches—First Corinthian Baptist Church, which has about 8000 members and is led by Pastor Michael Walrond—created a free-standing mental health clinic called the HOPE Center. The clinic is staffed by social workers and psychologists and provides 10 sessions of evidence-based therapy, free of charge, to those who need follow-up from the initial screening. We are excited about trying to replicate that model of community and church-based mental health service provision as a way to increase capacity for people in the community. Our hope is that the medical students, public health students, and psychiatry residents who are involved in this community-based work will help us to disseminate some of these ideas when they advance in their training and move to other parts of the country.
This year marks the 20th anniversary of the release of the US Surgeon General's Mental Health: Culture, Race and Ethnicity report. A hallmark of this report was its emphasis on the role of cultural factors in mental health. In looking ahead to the years to come, what specific areas of minority mental health do you believe deserve the greatest focus or attention in order to further close the gap in access to, quality of, and outcomes in minority mental health care? How can health professions schools contribute to this effort?
As with any health disparity issue, it is going to take multi-leveled interventions. Health professions schools to need to embed in their curricula issues around health disparities and mental health equity so that all students, regardless of what specialty they go into, are familiar with issues around cultural humility, are curious about their own interpersonal biases that may impact clinical outcomes, and become self-aware and interested in understanding how they can promote equity as individual clinicians regardless of specialty.
I think another important aspect is to really focus on parity. The Mental Health Parity and Equity Addiction Act passed in 2008, but true parity is still not enforced in practice with health care and insurance companies. High cost of care is a barrier for many families, so promoting equity and parity in reimbursements is important.
Access to mental health services has actually increased because of the pandemic, because so many people have smartphones and tablets and can take advantage of telehealth. However, the ability to pay for those services is still an issue. Therefore, we have to go back to the policy level and look at how the ability to pay impacts communities of color.
With the delta variant, we may go through another rise in Covid deaths, and the grief and trauma that has impacted so many people over the last 18 months is profound. There is going to be a mental health pandemic on the heels of this Covid pandemic that we really have to get ahead of.
You mentioned the unattended grief that is accompanying this pandemic but that has been left unaddressed. What are the best ways to tackle that?
The entire process of grief, loss, and recovery has been disrupted over the last year for all of us. We might have a loved one in the hospital but not able to see or be with that loved one. We might not be able to attend a funeral. I started to work with Dr. Kathy Shear, the director of the Columbia Center for Complicated Grief. She developed and tested the most empirically supported treatment for grief in the world called Complicated Grief Treatment (CGT). It is an evidenced-based treatment for grief, and we are preparing to submit an R01 application that will implement CGT through churches in Harlem and Brooklyn, two of the communities hardest hit by the pandemic. So, figuring out ways to disseminate CGT and to leverage technology is important, whether that is through apps, which Dr. Shear is developing, or through therapy that can be provided online.
The work that you are doing is fascinating! You have a lot of reasons to get out of bed in the morning and tackle these challenges. Is there anything else related to the disparities in mental health that you would like to highlight?
I would like to highlight the rise in opioid overdose among Black Americans. The opioid epidemic was initially framed as a primarily white suburban and rural Appalachian problem, and those communities got resources like naloxone, which reduced opioid deaths in those communities. However, now, with fentanyl-laced cocaine or marijuana, African Americans have the highest rates of opioid overdose deaths in the country, and nobody is really talking about it. There are many examples of inequities and such a history of racialization as it relates to drug treatment in this country. Think about the different penalties for crack cocaine compared to powder cocaine: crack caused people in the 1980s to be charged with a felony, whereas with powder cocaine only led to a misdemeanor. Given that crack predominately impacted Black and Brown communities and powder predominately impacted white communities, the policy had a clear racial divide. Dr. Nora Volkow, to her credit, has talked openly about this history and has encouraged NIDA to push the needle to promote equity around substance use. But I think it is important to bring light to this issue.