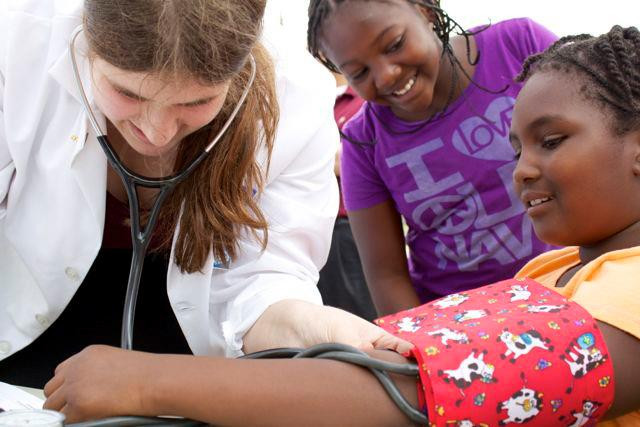 In November 2013, Macy sat down with I-LEAD principle investigators to get an update on the project:
"We know patient care is improved when health professionals work together in teams. At Case Western, we're exploring how you best get people ready to be high-functioning team members and how you create clinical teams that work," explains Patricia Underwood, PhD, RN, who co-leads the Interprofessional Learning Exchange and Development Program (I-LEAD) at Case Western Reserve University in Cleveland, Ohio.
Now in its fourth year, I-LEAD involves students from medicine, nursing, dentistry, and social work in interprofessional learning opportunities that are woven throughout each school's curriculum.
Starting Early
All incoming students from the four health professions schools participate in a workshop with the goal of learning about the other professions and understanding the value of interprofessional collaboration.
"We want to start to set this culture change very quickly so we gather students from all disciplines and involve them in collaborative work in their first year," says Ellen Luebbers MD, a professor at Case Western Reserve University School of Medicine who co-leads I-LEAD.
At the most recent workshop, over 500 students broke out into small teams to work on a case study about a family with a four-year-old son who was struggling with weight problems. Public health and nutrition students were among the participants.
"Part of functioning on a team is being able to understand and trust your teammates. That's why we have these 'getting to know you' activities. We feel it's really important that the health professions actually learn about each other," says Luebbers.
To extend these small team experiences, I-LEAD is exploring ways to virtually connect the students and task them with additional collaborative projects.
Integrated Learning
Throughout their time at Case Western, students from the four schools receive classroom instruction and gain practical experience in teamwork. Collaboration and communication skills are incorporated into the curriculums of each school, and I-LEAD is working to modify existing clinical learning experiences to include other health professions students.
"Rather than focusing on creating a separate set of interprofessional courses or one common simulation or clinical experience, we're looking for opportunities to embed interprofessional learning experiences within existing curricula," says Underwood.
"We want team work and collaboration to be something that students have got to learn," adds Luebbers.
"For many years nursing had these key concepts as requirements for accreditation and it's really exciting that medicine and dental now require it in their curriculums. It really helps interprofessionalism move along," explains Underwood.
Real-World Practice
Students are applying their team skills in a series of clinical experiences within community settings.
This year, Case Western introduced an interprofessional experience for nursing and medical students, building on an existing School of Nursing program. Working in teams, the students conducted blood pressure and BMI screenings in the Cleveland public schools as part of a large externally funded study around childhood obesity and hypertension. The students are trained in screening protocols and receive an orientation to basic team collaboration. While conducting the screenings, the students are encouraged to observe how the team and their efforts on the team affect the 'real' work that is getting done. They all participate in team briefing and debriefing sessions and reflect on their experience.
Dental students currently provide dental sealants in the same public schools, so Case Western is exploring ways to get the students from the three health professions schools to all go to the public schools together. "There seems like there might be a real opportunity to do some health promotion wellness education that's interprofessional," says Underwood.
Another major opportunity for medical and nursing students to come together and work as a team is the Student-Run Free Clinic, a bi-monthly, acute-care clinic that provides free health-care and counseling to underserved populations within the Cleveland community. The clinic is staffed and operated entirely by Case Western graduate students, and volunteer practitioners and faculty. Social work students are also starting to participate in the clinic, and there are plans to add dental students in the future too.
"There's a lot of evidence that students learn best when they are actually functioning as a team, not just sitting in a classroom learning about team work," says Luebbers. "Our students are seeing real patients and are doing real work in a team setting."
Tackling Time Constraints
As they work on expanding the program, conflicting calendars for the four health professions schools continue to be a significant challenge for the I-LEAD team.
"When we began, we quickly learned that the medical school is on one calendar schedule, the nursing and social work schools are on another schedule, and the dental school is on another, so where breaks are during the year and how the curriculum runs is very different," explains Underwood.
She continues: "So we started with thinking about what were the desired learning outcomes, then backed it up to see where we could embed the knowledge and skill development elements into the curriculum and where we had an opportunity to bring students together in a common time and place. Rather than being totally overwhelmed and succumbing to the structure of things as they are, that make it very, very difficult to do this, we're trying to do it around and over the structure, and in the spaces in-between."
"You have to take a look at the curriculums and think creatively about where you can put students together and for what, and try little things here and there," says Luebbers. "It's been trial and error, but relationships have been critical. Many things come up organically as you develop relationships with faculty from the different schools. In addition, having supportive leadership is critical and we are very fortunate to have it.
Looking at the Dose Effect
This year, Case will be comparing survey and qualitative data collected over two years from students who participated in the mandatory workshops and classroom instruction and the voluntary clinical experiences to see how the "dose" of participation in interprofessional learning activities makes a difference, and to assess what's working and what's not.
"The change we've seen in individual students is pretty dramatic—as we've asked them to reflect on their experiences, we've seen a lot of light bulbs go on," says Underwood. "One of the things we ask the students is what do they think they will do differently or do in the future as a result of these learning experiences? As the next generation of health care providers, the feelings and intended actions they express are really very heartening. For example, one student told us, 'I will absolutely change the way I work with people…we're trying to accomplish the same thing.'" "The future is in good hands," adds Luebbers.