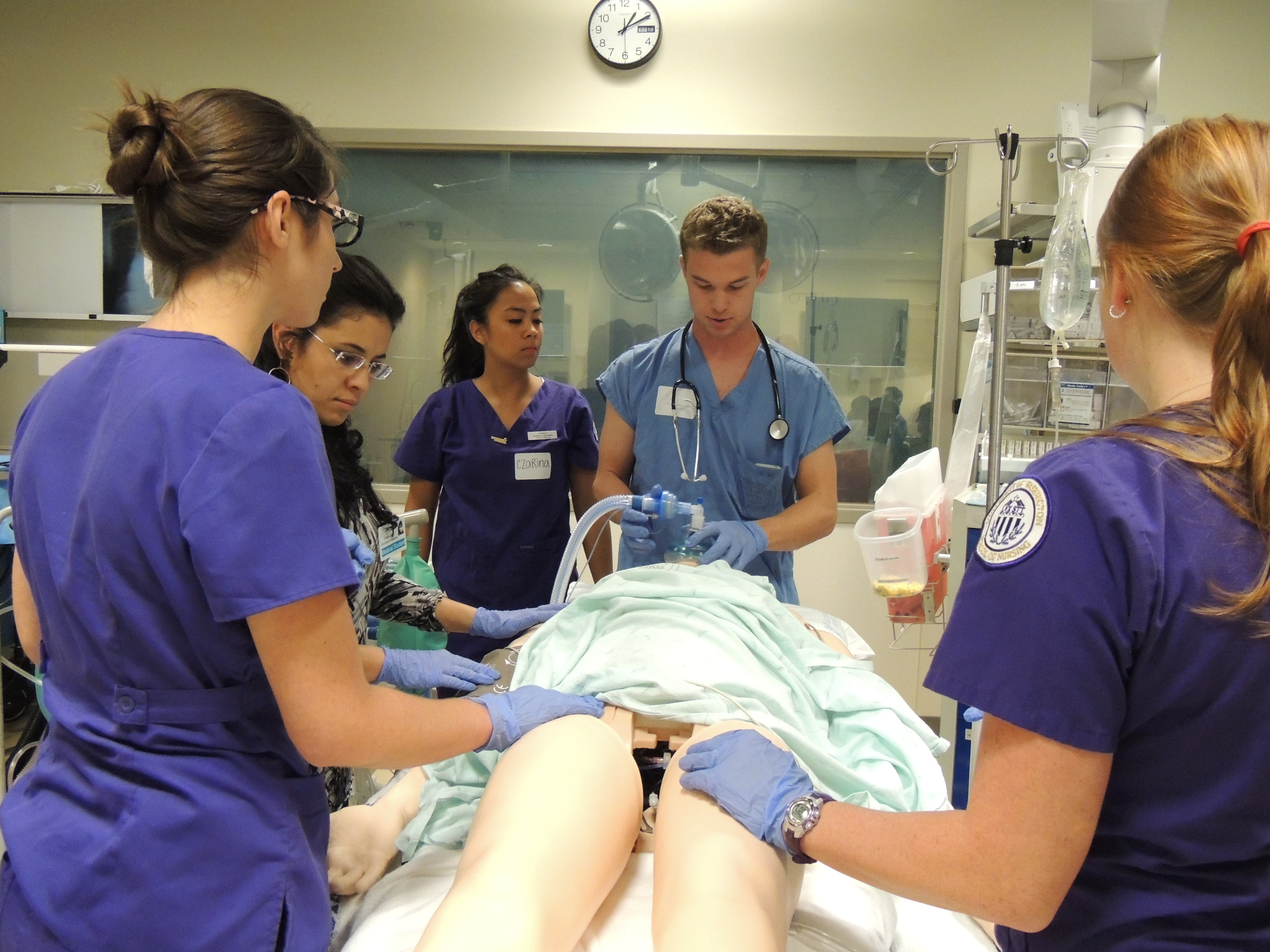 At the University of Virginia (UVA), the schools of nursing and medicine are implementing a combined curriculum that brings students together to learn teamwork skills and develop collaborative behaviors that will, in the long run, help them work effectively as part of a health care team.
"For many years, interprofessional education was considered a nice, 'add-on' experience. At UVA interprofessional experiences are integral to our medical and nursing curricula," explains Valentina Brashers, MD, Professor of Nursing and Attending Physician in Internal Medicine.
In 2012, with support from the Macy Foundation, UVA rolled out a series of interprofessional education (IPE) workshops for third-year nursing and medical students—students who are entering their clinical training. In the workshops, students are taught clinical guidelines for four illnesses, each varying in terms of the age of the patient and the care setting. Each student learns the professional skills that are required of them as a doctor or a nurse. They also learn the teamwork skills that are needed to effectively care for patients. Through exercises using both standardized patients and high fidelity simulation, the students then get to put these skills into practice.
"Collaboration is not about nurses acting more like doctors and doctors acting more like nurses. It's about working together as a team to provide high quality, patient-centered care," says Brashers.
With one class of students having completed all four scenarios, Brashers and team are now comparing results from a pre- and post-assessment to see what impact these IPE experiences have had on students' knowledge, attitudes and behavior.
Developing the Curriculum
Each IPE workshop is structured around one of four cases:
Critical illness: adults in the ICU with sepsis
Difficult conversations at end of life: adults with cancer
Transitions from hospital to home: elderly patients with Alzheimer's disease
Chronic progressive illness: children with muscular dystrophy

"There is a set of national guidelines for how these illnesses should be managed. The guidelines cover the whole lifespan of a patient, and run the gamut of care setting, from outpatient to inpatient to the ICU. The guidelines also tell you that you should provide this care in a team, but they don't tell you how," says Brashers. "We realized we needed to develop specific information about how this care should be provided by teams."
UVA convened "expert panels" of clinicians experienced in caring for the kinds of patients and illnesses outlined in each of the four cases. The panels developed a "behaviors checklist" for each scenario—a list of the profession-specific as well as the teamwork skills needed to care for each of the patients.
"They developed the gold standard for each illness scenario, which we call the Collaborative Care Best Practice Model," says Brashers. Using this gold standard, Brashers and her team then identified which of the professional and teamwork skills were appropriate for third-year medical and nursing students to learn, and created the workshops.
Integrating the Curriculum With Clinical Rotations
All of UVA's medical and nursing students entering their third year are required to complete the IPE workshops. As students move through their clinical rotations, such as pediatrics or geriatrics, each completes the matching IPE workshop which occurs every two to three weeks.
"This is not fluffy stuff," says Brashers. "The IPE experience is seamlessly mixed in with the hard core clinical education and fully integrated with the students' learning experience."
To date, about 90 nursing students and 150 medical students have completed all four modules.
Seeking Behavior Change
To measure what students have learned from completing the four workshops, each student undertakes two practical exams, called an Interprofessional Teamwork Objective Structured Clinical Examination (ITOSCE)—one at the start of the year and one at the end of the year. Faculty are looking to see whether students are better able to demonstrate team-based implementation of the clinical guidelines once they have gone through the program.
"We believe that by testing behaviors they'll stick," says Brashers. "We want to be able to say, 'your student can do this now'."
For the ITOSCEs, students are presented with a standardized patient—either someone who has a family member that is dying, or a patient who is experiencing acute shortness of breath due to refusing medication. Also in the room is a standardized nurse or doctor (depending on the student's profession). The student must work with the patient and their colleague to get the information they need to address the problem.
Students complete a self-assessment after the exam. The standardized nurse/doctor also assesses the student, using an assessment tool called the Collaborative Behaviors Observational Tool (CBOAT). The CBOAT is based on the behaviors checklist and assesses students on their team work skills, e.g. did the nursing student introduce his/herself to the doctor and did s/he communicate patient background to the doctor.
Expanding the Model
UVA is already using the Collaborative Care Best Practice Model approach to create new IPE experiences, including workshops that address teamwork for the management of acute and chronic pain. Plans are also underway to partner with other Macy grantees, including the University of Washington, and the National Center for Interprofessional Practice and Education, to expand the Collaborative Care Best Practice Model into graduate education and faculty development, explains Brashers. "We want to create clinically relevant IPE experiences that provide appropriate learning across the continuum."
Learn more on UVA's new Interprofessional Education website.